The Dancing Master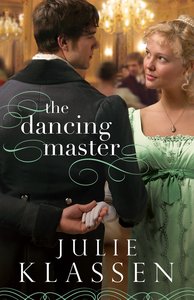 Finding himself the man of the family, London dancing master Alec Valcourt moves his mother and sister to remote Devonshire, hoping to start over. But he is stunned to learn the village matriarch has prohibited all dancing, for reasons buried deep in her past.

Alec finds an unlikely ally in the matriarch's daughter. Though he's initially wary of Julia Midwinter's reckless flirtation, he comes to realize her bold exterior disguises a vulnerable soul--and hidden sorrows of her own.

Julia is quickly attracted to the handsome dancing master--a man her mother would never approve of--but she cannot imagine why Mr. Valcourt would leave London, or why he evades questions about his past. With Alec's help, can Julia uncover old secrets and restore life to her somber village...and to her mother's tattered heart?

Filled with mystery and romance, The Dancing Master brings to life the intriguing profession of those who taught essential social graces for ladies and gentlemen hoping to make a "good match" in Regency England.



Praise for Julie Klassen's The Tutor's Daughter

"Whether you're a fan of Jane Austen or Charlotte Bronte, or both, you will soon become a fan of Julie Klassen once you read this wonderful book."--GoodReads

"Well-developed characters, plot twists, and attention to period detail make this a sure bet for fans of Regency novels."--Library Journal

"Regency/Klassen fans will love the mystery, romance, and drama."--Publishers Weekly



Discussion questions included.

- Publisher
You May Also Be Interested In
About "The Dancing Master"
Finding himself the man of the family, London dancing master Alec Valcourt moves his mother and sister to remote Devonshire, hoping to start over. But he is stunned to learn the village matriarch has prohibited all dancing, for reasons buried deep in her past.

Alec finds an unlikely ally in the matriarch's daughter. Though he's initially wary of Julia Midwinter's reckless flirtation, he comes to realize her bold exterior disguises a vulnerable soul--and hidden sorrows of her own.

Julia is quickly attracted to the handsome dancing master--a man her mother would never approve of--but she cannot imagine why Mr. Valcourt would leave London, or why he evades questions about his past. With Alec's help, can Julia uncover old secrets and restore life to her somber village...and to her mother's tattered heart?

Filled with mystery and romance, The Dancing Master brings to life the intriguing profession of those who taught essential social graces for ladies and gentlemen hoping to make a "good match" in Regency England.



Praise for Julie Klassen's The Tutor's Daughter

"Whether you're a fan of Jane Austen or Charlotte Bronte, or both, you will soon become a fan of Julie Klassen once you read this wonderful book."--GoodReads

"Well-developed characters, plot twists, and attention to period detail make this a sure bet for fans of Regency novels."--Library Journal

"Regency/Klassen fans will love the mystery, romance, and drama."--Publishers Weekly



Discussion questions included.
- Publisher


Meet the Author
Julie Klassen
Klassen is a fiction editor with a background in advertising. Lady of Milkweed Manor is her first novel. Julie and her husband have two sons and liye in Minnesota.
Customer Reviews For "The Dancing Master"
Write Your Own Review
Ok Book
By Kimberley,

May 14 2016
This was an interesting book. I had been putting off reading it for awhile since I wasn't sure if I would like it. The story was interesting but definitely not my favourite. I had been told that if you like Jane Austen you would like this author. I wouldn't agree with this statement. The book was good but not great.

---
Unlikeable Characters
By sarah,

Mar 08 2014
Much of the story relies on the fact that the village matriarch has forbidden the townspeople to hold dances in any form. This seems an unrealistic premise for a story, but I was intrigued to see how Julie klassen would weave an interesting story from this. I found the plot very slow. I have noticed this in one or two other novels Julia klassen has written. I forced myself to read at least 100pages before giving up and turning to another book that would hold my interest. 

The main character Alec has some secrets he withholds from the reader as to why he has retreated from London with his family to stay with his uncle. I felt as though I should have had a deeper glimpse into Alec's life and his reasons for this move. I also felt disconnected to the other main character Julia. She is an unlikeable character from the first time the reader meets her. Perhaps late in the story she softens, but again the reader doesn't get to see any chinks in her perfect exterior to make a different judgement. All in all I felt I had wasted my time. 

---
Intriguing
By Hannah,

Feb 24 2014
I really enjoyed reading this book and learning (through the fictitious story) all about the history of dance and dance masters in centuries past. Like all novels by this author, the characters had great depth to them and the story kept me intrigued all the way to the last page, wondering how all the strings and stories would come together. A beautiful story of grace, love, transformation and forgiveness. 
---
Not Julie Klassen's best
By Iola,

Jan 17 2014
A city boy with a passion for dance moves with his mother to a small country town with a powerful moral leader who banned dancing following the tragic death of a young man many years ago. The leader has a rebellious daughter who seeks out the company of inappropriate young men, including the new boy in town, who wants to reintroduce the townsfolk to dance.

Sound familiar? Yes, it's the plot of Footloose, the 1984 movie starring Kevin Bacon. It's also the plot of The Dancing Master. 
Parts of The Dancing Master were very good. Klassen's writing was, as always, excellent, with a use of language and evidence of extensive research. I appreciated the attention to detail. I had high expectations for The Dancing Master, because I've read and enjoyed several of Julie Klassen's earlier novels. I was expecting to be wowed, in the way I was when I first read The Maid of Milkweed Manor. But I wasn't. The Dancing Master was missing that originality of plot and character demonstrated in her earlier novels. I found it slow to read and difficult to finish. I hope her next novel returns to the combination of strong characters and excellent writing that made her earlier novels so good.

Thanks to Bethany House and NetGalley for providing a free ebook for review. 
{{review.title}}
By {{review.author.name}},

{{review.reviewCreatedDate | date:'MMM dd yyyy'}}

{{reviewdescription}}
{{review.text}}
---