The Dangers of a Shallow Faith (New Tozer Collection Series)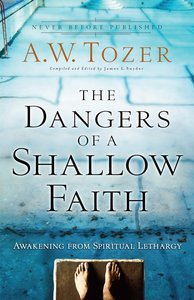 A Call for Every Christian to Move from Shallow Living to Deep Faith

In The Dangers of a Shallow Faith, renowned theologian A. W. Tozer warns believers in Christ against the great danger of spiritual lethargy. He urges Christians to be aware of the times in which they live and to recognize how attempting to live a life for God on autopilot will actually undermine their faith. For Tozer, the risks are so significant that "breaking out from the tyranny of spiritual lethargy--whatever the cost--should be the number-one priority of every Christian."

In this never-before-published compilation, followers of Christ will discover anew the importance of standing boldly against spiritual and moral slumber. They will also see the importance of remaining awake in the face of constant temptation and distraction. Discover the spiritual awakening and change the Holy Spirit can bring to your life as you surrender completely to God and walk in a deeper faith!

- Publisher
Also Available In
You May Also Be Interested In
About "The Dangers of a Shallow Faith (New Tozer Collection Series)"
A Call for Every Christian to Move from Shallow Living to Deep Faith

In The Dangers of a Shallow Faith, renowned theologian A. W. Tozer warns believers in Christ against the great danger of spiritual lethargy. He urges Christians to be aware of the times in which they live and to recognize how attempting to live a life for God on autopilot will actually undermine their faith. For Tozer, the risks are so significant that "breaking out from the tyranny of spiritual lethargy--whatever the cost--should be the number-one priority of every Christian."

In this never-before-published compilation, followers of Christ will discover anew the importance of standing boldly against spiritual and moral slumber. They will also see the importance of remaining awake in the face of constant temptation and distraction. Discover the spiritual awakening and change the Holy Spirit can bring to your life as you surrender completely to God and walk in a deeper faith!
- Publisher


Meet the Author
A W Tozer
A. W. Tozer died in 1963, but his life and spiritual legacy continue to draw many into a deeper knowledge of God. During his lifetime, Tozer pastored several Christian and Missionary Alliance churches. Missions and the deeper life in Christ were his primary focus. He also served as editor of the Alliance Life. Tozer authored more than 40 books, (at least two of which are considered classics: The Pursuit of God and Knowledge of the Holy), a tremendous accomplishment for a man who never received a formal theological education. The presence of God was his classroom, his notebooks and tools consisted of prayer, God's Word, and the writings of early Christians and theologians, the Puritans, and great men of faith. - Publisher.
Other Titles In The "New Tozer Collection Series" Series View All