The Dark Side of the Supernatural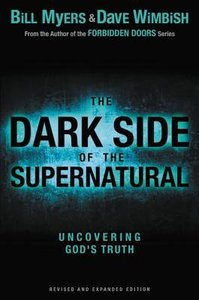 Fact or Fiction? Vampires, aliens, psychics, and fallen angels are taking up more and more space in the public imagination as well as in popular movies and TV shows. Encounters with the paranormal, and darker stories of unexplained phenomena can attract our attention in ways we don't always understand. This revised and expanded edition of The Dark Side of the Supernatural provides a riveting and up-to-date investigation of all things paranormal. Bill Myers and David Wimbish bring the power of biblical guidance---as well as years of research, interviews, and encounters with supernatural topics---to help open your eyes to what is real and what is fantasy. If you're curious about these subjects or who have friends that are caught up in them, this book will help you uncover the truth about: * Vampires * Witches and Wicca * Satanism * Ghosts * Angels and demons * And much more! Bill Myers has spent years researching supernatural phenomenon, and has even made movies about it. In this book, he'll share his research, along with interviews and true-life experiences of psychics, Satanists, people who have been possessed, and even abducted by aliens. The stories he shares may sound like Hollywood movies, but they are based on real events. His encounters with a variety of supernatural topics will open your eyes to what is real and what is fantasy. You'll learn more about: * Wicca and witches * Reincarnation * UFO's * Ouija boards * Angels and demons * Ghosts and near-death experiences * Satanism * Vampires, and more If you're curious about these issues, or have friends who are caught up in them, The Dark Side of the Supernatural will uncover the truth and explain how to help.

- Publisher
You May Also Be Interested In
About "The Dark Side of the Supernatural"
Fact or Fiction? Vampires, aliens, psychics, and fallen angels are taking up more and more space in the public imagination as well as in popular movies and TV shows. Encounters with the paranormal, and darker stories of unexplained phenomena can attract our attention in ways we don't always understand. This revised and expanded edition of The Dark Side of the Supernatural provides a riveting and up-to-date investigation of all things paranormal. Bill Myers and David Wimbish bring the power of biblical guidance---as well as years of research, interviews, and encounters with supernatural topics---to help open your eyes to what is real and what is fantasy. If you're curious about these subjects or who have friends that are caught up in them, this book will help you uncover the truth about: * Vampires * Witches and Wicca * Satanism * Ghosts * Angels and demons * And much more! Bill Myers has spent years researching supernatural phenomenon, and has even made movies about it. In this book, he'll share his research, along with interviews and true-life experiences of psychics, Satanists, people who have been possessed, and even abducted by aliens. The stories he shares may sound like Hollywood movies, but they are based on real events. His encounters with a variety of supernatural topics will open your eyes to what is real and what is fantasy. You'll learn more about: * Wicca and witches * Reincarnation * UFO's * Ouija boards * Angels and demons * Ghosts and near-death experiences * Satanism * Vampires, and more If you're curious about these issues, or have friends who are caught up in them, The Dark Side of the Supernatural will uncover the truth and explain how to help.
- Publisher


Meet the Authors
Bill Myers
Bill Myers is the author of the humorously imaginative The Incredible Worlds of Wally McDoogle series, which currently numbers 27 episodes and over 2.1 million units sold. He is also the creator and writer of the McGee and Me! video/dvd series. Myers is a director as well as a writer, and his films have won over forty national and international awards. He has written more than 50 books for kids, teens, and adults. Myer's work is enjoyed by millions around the world. He lives with his wife and two daughters in Southern California.- Publisher.
David Wimbish
David Wimbish is creative supervisor for Russ Reid Company, an advertising agency in Pasadena, California, and he has written or co-authored more than 30 books. He and his wife, Kathy, have six grown children and live in La Verne, California, with their dog and two cats.