The Day I Met Jesus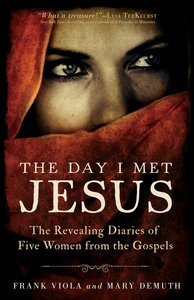 Two thousand years ago, Jesus Christ met face-to-face with people just like you. Broken, imperfect, sometimes fearful and without hope. The Day I Met Jesus is a beautifully crafted narrative that chronicles the remarkable encounters of five women in the Gospels who were desperate to find wholeness, security, and purpose. Like all of us, these women struggled with the regrets of their pasts, the stresses of their presents, and the worries of their tomorrows.

Join Frank Viola and Mary DeMuth on a fascinating journey back in time as they retell the dramatic accounts of five women who met Jesus. Each narrative is told from each woman's unique perspective, yet tightly grounded in the Gospel accounts and faithful to first-century history. Elegantly written and profoundly stirring, this book blends creative narrative with uncommon insight, spiritual depth, and practical application.

If you are someone who seeks a renewal of hope, faith, and love, The Day I Met Jesus will make your Bible come to life and usher you into a fresh encounter with your Lord.

- Publisher
You May Also Be Interested In
About "The Day I Met Jesus"
Two thousand years ago, Jesus Christ met face-to-face with people just like you. Broken, imperfect, sometimes fearful and without hope. The Day I Met Jesus is a beautifully crafted narrative that chronicles the remarkable encounters of five women in the Gospels who were desperate to find wholeness, security, and purpose. Like all of us, these women struggled with the regrets of their pasts, the stresses of their presents, and the worries of their tomorrows.

Join Frank Viola and Mary DeMuth on a fascinating journey back in time as they retell the dramatic accounts of five women who met Jesus. Each narrative is told from each woman's unique perspective, yet tightly grounded in the Gospel accounts and faithful to first-century history. Elegantly written and profoundly stirring, this book blends creative narrative with uncommon insight, spiritual depth, and practical application.

If you are someone who seeks a renewal of hope, faith, and love, The Day I Met Jesus will make your Bible come to life and usher you into a fresh encounter with your Lord.
- Publisher


Meet the Authors
Frank Viola
Frank Viola is an influential voice in the contemporary house church movement. For the last twenty years, he has been gathering with organic house churches in the United States. Frank has written eight revolutionary books on radical church restoration, including Gods Ultimate Passion, Rethinking the Wineskin, Who is Your Covering?, Pagan Christianity, Gathering in Homes and The Untold Story of the New Testament Church. He is a recognised expert on new trends for the church, holds conferences on the deeper Christian life, and is actively engaged in planting New Testament-styled churches. His Web site, frankviola.com, contains many free resources designed to enrich the spiritual lives of Gods people. Frank and his family live in Gainesville, Florida.
Mary Demuth
Author and speaker Mary DeMuth helps people turn their trials to triumph. Her books include Ordinary Mom, Extraordinary God, Building the Christian Family You Never Had, Watching the Tree Limbs, Wishing on Dandelions, Authentic Parenting in a Postmodern Culture, Daisy Chain and Thin Places. Mary lives with her husband Patrick and their three children in Texas. Find out more at www.marydemuth.com