The Deborah Company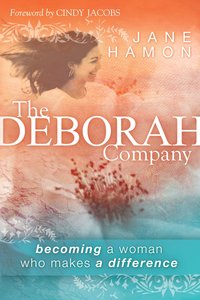 The Deborah Company is an inspiring look at how God is using women to impact the earth through employing divine strategies for breakthrough. In Judges 4 the prophetess and judge, Deborah, brought freedom to her land through hearing the voice of the Lord

- Publisher In everyday language Jane Hamon recounts the biblical story of Deborah and weaves in true stories about pre and modern-day women prophets and healers who changed the stereotypical view of women's roles in the church. Hamon's detailed description of Deborah traits - vision, wisdom and authority, balance, courage, passion - not only serves to help the reader identify with their sisters in faith, it provides the impetus to launch out and fulfill their own God-given purpose in life. The Deborah Company takes readers on an inspiring historical journey from women's biblical roots through the ages where women made a positive difference in the world, and comes full circle to providing today's Christian women with incentive and motivation to become a Deborah.

- Publisher
You May Also Be Interested In
About "The Deborah Company"
The Deborah Company is an inspiring look at how God is using women to impact the earth through employing divine strategies for breakthrough. In Judges 4 the prophetess and judge, Deborah, brought freedom to her land through hearing the voice of the Lord
- Publisher

In everyday language Jane Hamon recounts the biblical story of Deborah and weaves in true stories about pre and modern-day women prophets and healers who changed the stereotypical view of women's roles in the church. Hamon's detailed description of Deborah traits - vision, wisdom and authority, balance, courage, passion - not only serves to help the reader identify with their sisters in faith, it provides the impetus to launch out and fulfill their own God-given purpose in life. The Deborah Company takes readers on an inspiring historical journey from women's biblical roots through the ages where women made a positive difference in the world, and comes full circle to providing today's Christian women with incentive and motivation to become a Deborah.
- Publisher


Meet the Author
Jane Hamon
Hamon co-pastors with her husband Christian International Family Church in Santa Rosa Beach, Florida.