The Demas Revelation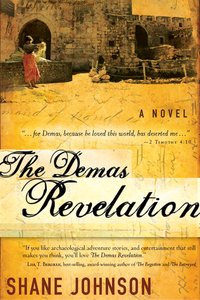 Everything you believe is wrong. Now what do you do?
You May Also Be Interested In
About "The Demas Revelation"
Everything you believe is wrong. Now what do you do?
- Koorong


During a dig in Rome, Dr. Anna Meridian-an archaeologist and woman of faith-uncovers the find of a lifetime: ancient documents dating to the time of the apostles, confessions that the early Christians are perpetrating a falsehood. She decides she must keep the documents' existence a secret, but word eventually leaks out.

Many turn from their faith as another earth shattering discovery sheds more light on the validity of the manuscripts. The archaeologist searches for meaning in it all-why did these manuscripts come to light and what is her part in God's plan?


- Publisher
Meet the Author
Shane Johnson
Shane Johnson, a writer, graphic artist, and spaceflight historian, has written several books and magazine articles concerning popular television series and motion pictures. He also authored the adventure novel "The Last Guardian" (chosen by Booklist Magazine as one of the Top Ten Christian Novels for 2001) and served as a design consultant for the HBO miniseries " From the Earth to the Moon." He and his wife, Kathy, live in north central Texas with their son, Daniel.