The Destiny of Islam in the End Times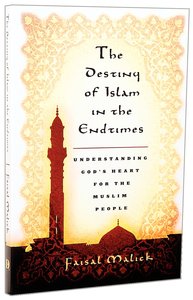 In Greek, time is divided into Chronos and Kairos. Man only knows time as Chronos (linear time) and measures it. God knows time as Kairos and destines it. Today 1.6 Billion Muslims stand at centre stage while the world watches and wonders. Israel warns of terrorism, the Church is watching the clock, and the people of Islam are seeking a revolution. Simultaneously, a portal is opening between time and eternity over the Muslim world making way for a Kairos moment to occur. In this book you will hear the heartbeat of God for the Muslim People and understand the cry of the Muslims in this hour. You will also find answers to questions about:

The Biblical Origin of the Muslim People

The Destiny of the Muslim People

Terrorism and Islam

The Mystery of Israel, the Church and Muslims

And much more...
God is about to start in time what He finished in eternity!

- Publisher
You May Also Be Interested In
About "The Destiny of Islam in the End Times"
In Greek, time is divided into Chronos and Kairos. Man only knows time as Chronos (linear time) and measures it. God knows time as Kairos and destines it. Today 1.6 Billion Muslims stand at centre stage while the world watches and wonders. Israel warns of terrorism, the Church is watching the clock, and the people of Islam are seeking a revolution. Simultaneously, a portal is opening between time and eternity over the Muslim world making way for a Kairos moment to occur. In this book you will hear the heartbeat of God for the Muslim People and understand the cry of the Muslims in this hour. You will also find answers to questions about:

The Biblical Origin of the Muslim People

The Destiny of the Muslim People

Terrorism and Islam

The Mystery of Israel, the Church and Muslims

And much more...
God is about to start in time what He finished in eternity!

- Publisher
- Koorong

Seeing Muslims through God's Eyes Faisal Malick knows how Muslims think, why they act, and what they feel. He was one of them??????until he accepted Jesus Christ as his personal Savior. Understanding Ishmael and his descendants is the only way to realize their important role in bringing about peace??????in the Middle East, the West, the hearts of all humanity. The Destiny of Islam in the Endtime exposes the reality of: ?????? Muhammad, Ishmael's direct descendant. ?????? The terrorism mentality. ?????? Dreams, visions and Muslims. ?????? Muslims being the catalyst for Jews and Christians. ??????I spoke to a nation that was NOT praying to Me. I said, "Here I am. Here I am." (Isaiah 65: 1 The Great Book) Your thoughts about Muslims will be shaken to the core when reading this thought-provoking book written by a former Muslim. His knowledge of Islam will widen your perspective and enlarge your heart for all of God's people.
- Publisher


Meet the Author
Faisal Malick
Faisal Malick, a former Muslim, is a recognized prophet, teacher, television personality, and best selling author. He is founder of Covenant of Life Ministries, a multifaceted training and equipping ministry, He and his wife Sabina host the daily television show, The Plumbline, viewed worldwide.