The Difference You Make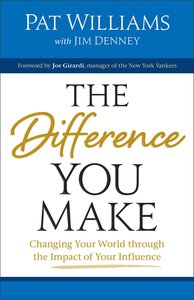 Every one of us has influence, whether we realize it or not. In everything we say and do, we are influencing those around us. What if we became more aware, more intentional, and more strategic about our own influence? Well, we might just change the world.

True influence, says Pat Williams, isn't about getting what you want--it's about serving others. Using personal stories from his own life and the lives of others, Williams shows readers the difference between influence and manipulation, how to influence others through both words and deeds, and ultimately how to change the world for the better, one relationship at a time.

This book will inspire readers to build a positive legacy in the lives of others and take the role of influencer to heart. Each chapter includes questions and ideas for personal reflection and practical application, and can be used to guide group discussions as well. Includes a foreword by Joe Girardi, manager of the New York Yankees.

- Publisher
You May Also Be Interested In
About "The Difference You Make"
Every one of us has influence, whether we realize it or not. In everything we say and do, we are influencing those around us. What if we became more aware, more intentional, and more strategic about our own influence? Well, we might just change the world.

True influence, says Pat Williams, isn't about getting what you want--it's about serving others. Using personal stories from his own life and the lives of others, Williams shows readers the difference between influence and manipulation, how to influence others through both words and deeds, and ultimately how to change the world for the better, one relationship at a time.

This book will inspire readers to build a positive legacy in the lives of others and take the role of influencer to heart. Each chapter includes questions and ideas for personal reflection and practical application, and can be used to guide group discussions as well. Includes a foreword by Joe Girardi, manager of the New York Yankees.
- Publisher


Meet the Authors
Pat Williams
PAT WILLIAMS lives in Winter Park, Florida and is senior vice President of the NBA's Orlando Magic. He has forty years of professional sports experience, has written 22 books, including Secrets for the Mountain and Unsinkable, and is one of America's most sought-after motivational speakers. Pat and his wife, Ruth, are the parents of 19 children, 14 of whom have been adopted from four foreign countries.
Jim Denney
Free-lance writer Jim Denney has written and edited more than 60 books with a number of different authors, including Super Bowl champion Reggie White, Star Trek actress Grace Lee Whitney, supermodel Kim Alexis, and Orlando Magic executive Pat Williams including Answers to Satisfy the Soul and The Timebenders (a children's science-fantasy series), which includes Battle Before Time and Lost in Cydonia. He is married with two teenage children and lives in California.