The Digital Invasion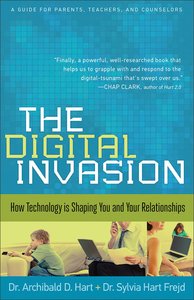 In the world of technology, there are just two kinds of people: digital natives and digital immigrants. Digital natives are those born after the advent of the internet. They are comfortable with swift technological change and take the presence of technology in their lives almost completely for granted. They have "digital DNA" flowing through their bodies. On the other hand, digital immigrants are those born before the advent of the internet. Their comfort level with our technology-soaked world is more variable. But they are affected by the digital invasion just as much as their native children.

With the latest research supporting them, Dr. Archibald Hart and Dr. Sylvia Hart Frejd uncover both the subtle and the dramatic ways digital technology is changing us from within, focusing their exposé on the impact on the spiritual life of individuals. Through insights from neuroscience and psychology, they offer readers therapeutic and biblical strategies for handling the digital invasion in order to become good stewards of their digital lives. Parents, educators, students, counselors, and pastors will especially appreciate this cultural wake-up call.

- Publisher
You May Also Be Interested In
About "The Digital Invasion"
In the world of technology, there are just two kinds of people: digital natives and digital immigrants. Digital natives are those born after the advent of the internet. They are comfortable with swift technological change and take the presence of technology in their lives almost completely for granted. They have "digital DNA" flowing through their bodies. On the other hand, digital immigrants are those born before the advent of the internet. Their comfort level with our technology-soaked world is more variable. But they are affected by the digital invasion just as much as their native children.

With the latest research supporting them, Dr. Archibald Hart and Dr. Sylvia Hart Frejd uncover both the subtle and the dramatic ways digital technology is changing us from within, focusing their exposé on the impact on the spiritual life of individuals. Through insights from neuroscience and psychology, they offer readers therapeutic and biblical strategies for handling the digital invasion in order to become good stewards of their digital lives. Parents, educators, students, counselors, and pastors will especially appreciate this cultural wake-up call.
- Publisher


Meet the Authors
Archibald Hart
Dr. Archibald D. Hart is a clinical psychologist and senior professor of psychology and dean emeritus of the Graduate School of Psychology, Fuller Theological Seminary in Pasadena, California. He also serves as the president of the International Network for Christian Counselors. Dr. Hart is an internationally known speaker and author of twenty-four books, including Adrenalin and Stress, Stress and Your Child, Helping Children Survive Divorce, The Sexual Man and The Anxiety Cure. He and his wife, Kathleen, live very happily in Southern California, surrounded by their children and grandchildren.