The Discipleship: Growing Christian Lifestyle (Fisherman Bible Studyguide Series)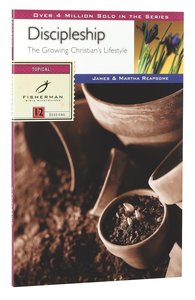 In a culture focused on success and individuality, many people are desperately seeking someone or something to follow that will give their lives meaning. Who people follow reveals a lot about who they are and who they want to be. Christians desire to be true followers -- true disciples -- of Jesus in their daily lives. Through thoughtful study of several key New Testament passages, Discipleship: The Growing Christian Lifestyle offers new discoveries from Scripture that will help the reader live out God's call to follow Him.

- Publisher Readers will explore what it means to be a follower of Jesus by studying two New Testament personalities who demonstrated discipleship.

- Publisher
You May Also Be Interested In
About "The Discipleship: Growing Christian Lifestyle (Fisherman Bible Studyguide Series)"
In a culture focused on success and individuality, many people are desperately seeking someone or something to follow that will give their lives meaning. Who people follow reveals a lot about who they are and who they want to be. Christians desire to be true followers -- true disciples -- of Jesus in their daily lives. Through thoughtful study of several key New Testament passages, Discipleship: The Growing Christian Lifestyle offers new discoveries from Scripture that will help the reader live out God's call to follow Him.
- Publisher

Readers will explore what it means to be a follower of Jesus by studying two New Testament personalities who demonstrated discipleship.
- Publisher


Meet the Authors
James Reapsome
James Reapsome, author of "Romans, "is editor-at-large of "Evangelical Missions Quarterly" and Associate Pastor of Western Springs Baptist Church in Western Springs, Illinois. He has written several Fisherman guides, including "Abraham, Jeremiah," and "Ezra and Nehemiah."
Martha Reapsome
Martha Reapsome is retired and living in Downers Grove, IL. Martha Reapsome is retired and living in Downers Grove, IL. Formerly she served as midwest director of Neighborhood BiblFormerly she served as midwest director of Neighborhood Bible Studies, Inc., now known as Q Place, Dobbs Ferry, NY. e Studies, Inc., now known as Q Place, Dobbs Ferry, NY. C
Other Titles In The "Fisherman Bible Studyguide" Series View All