The Dishonorable Miss Delancey (#03 in Regency Brides: A Legacy Of Grace Series)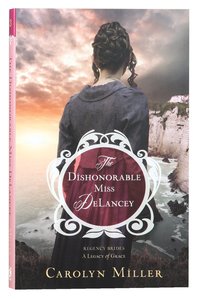 :Will a damaged reputation and desire for society's approval thwart the legacy of grace?

Tainted by scandal and forced to leave London for the quieter Brighton countryside, the Honorable Miss Clara DeLancey is a shadow of her former society self. She's lost the man she loved to another and, in a culture that has no patience for self-pity, is struggling with depression. A chance encounter brings her a healing friendship with the sisters of an injured naval captain. But Clara's society mama is appalled at the new company she's keeping.

Captain Benjamin Kemsley is not looking for a wife. But his gallant spirit won't let him ignore the penniless viscount's daughter--not when she so obviously needs assistance to keep moving forward from day to day. Can he protect his heart and still keep her safe?

When they're pushed into the highest echelons of society at the Prince Regent's Brighton Pavilion, this mismatched couple must decide if family honor is more important than their hopes. Can they right the wrongs of the past and find future happiness together--without finances, family support, or royal favor?

The Dishonorable Miss DeLancey is full of the captivating, flawed characters, fascinating historical details, and masterful writing that Carolyn Miller's fans have come to know in The Elusive Miss Ellison and The Captivating Lady Charlotte. If you love Lori Wick, Georgette Heyer, and other clean, wholesome Regency romance, you'll love this third book in the Regency Brides: A Legacy of Grace series.



- Publisher
You May Also Be Interested In
About "The Dishonorable Miss Delancey (#03 in Regency Brides: A Legacy Of Grace Series)"
:Will a damaged reputation and desire for society's approval thwart the legacy of grace?

Tainted by scandal and forced to leave London for the quieter Brighton countryside, the Honorable Miss Clara DeLancey is a shadow of her former society self. She's lost the man she loved to another and, in a culture that has no patience for self-pity, is struggling with depression. A chance encounter brings her a healing friendship with the sisters of an injured naval captain. But Clara's society mama is appalled at the new company she's keeping.

Captain Benjamin Kemsley is not looking for a wife. But his gallant spirit won't let him ignore the penniless viscount's daughter--not when she so obviously needs assistance to keep moving forward from day to day. Can he protect his heart and still keep her safe?

When they're pushed into the highest echelons of society at the Prince Regent's Brighton Pavilion, this mismatched couple must decide if family honor is more important than their hopes. Can they right the wrongs of the past and find future happiness together--without finances, family support, or royal favor?

The Dishonorable Miss DeLancey is full of the captivating, flawed characters, fascinating historical details, and masterful writing that Carolyn Miller's fans have come to know in The Elusive Miss Ellison and The Captivating Lady Charlotte. If you love Lori Wick, Georgette Heyer, and other clean, wholesome Regency romance, you'll love this third book in the Regency Brides: A Legacy of Grace series.


- Publisher


Meet the Author
Carolyn Miller
Carolyn Miller lives in the beautiful Southern Highlands of New South Wales, Australia, with her husband and four children.

A longtime lover of romance, especially that of Jane Austen and Georgette Heyer's Regency era, Carolyn holds a BA in English Literature, and loves drawing readers into fictional worlds that show the truth of God's grace in our lives.

Customer Reviews For "The Dishonorable Miss Delancey (#03 in Regency Brides: A Legacy Of Grace Series)"
Write Your Own Review
For Austen fans!
By Clare,

Mar 02 2018
I was given the first three in this series, and they reminded me so much of Austen's writings.

Witty and deep all at the same time, I loved meeting all the characters and being challenged by their faith journey.

---
Beautiful
By Iola,

Dec 13 2017


Carolyn Miller takes well-known tropes and gives them new life in The Dishonourable Miss DeLancey, the final book in her Legacy of Grace series-and the best (well, in my view).


My favourite aspect of Clara DeLancey's story was the focus on her spiritual journey.
In fact, that was the major focus of the first half of the novel. Clara's turning point comes when she realises there is more to Christianity than church. She sees the need to change from the dissatisfied person she had been-and the need to put that change in God's hands. Fortunately, she has her new friends to guide her ... new friends with a handsome brother.

I also enjoyed the references to the marine chronometer. I love this kind of mix of fact and fiction, because it was the lack of such a clock caused the shipwreck that made Captain Ben Kemsley a minor Regency celebrity. There were also several scenes set in and around the famed Brighton Pavillion, and I enjoyed this as well.

Overall, an excellent Christian Regency romance with element of suspense. Recommended!

Thanks to Kregel Publications for sending me a free paperback for review.
---
Jane Austin would be proud
By Vickie,

Nov 28 2017
The series Regency Brides - A Legacy of Grace will not disappoint. All the characters take you into the world of the 1800. The heroes will make your heart race as they attempt to save, protect and honour the heroines. Once you start reading you will not be able to put the book down. There are twists and turns you don't expect. 
And are you kidding I have to wait until Spring 2018 for the next series of Regency Brides - A Promise of Hope. How will I endure the time.
{{review.title}}
By {{review.author.name}},

{{review.reviewCreatedDate | date:'MMM dd yyyy'}}

{{reviewdescription}}
{{review.text}}
---
Other Titles In The "Regency Brides: A Legacy Of Grace Series" Series