The Divine Name and the Holy Trinity, the Volume #01 Distinguishing the Voices (S)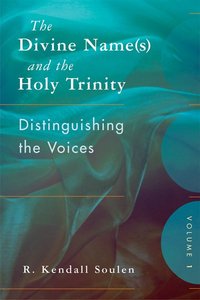 Few things are so vital to Christian life yet so mired in controversy as the language we use to name the mystery of the Trinity. This project offers a fresh map of Trinitarian language that is simple, yet profound in its implications for theology and practice. Soulen proposes that sacred scripture gifts us with three patterns of naming the persons of the Trinity: a theo-logical pattern characterized by oblique reference to the Tetragrammaton (the divine name); a christo-logical pattern characterized by the kinship vocabulary of Father, Son, and Spirit; and a pneumato-logical pattern, characterized by the open-ended multiplicity of divine names. These patterns relate in a Trinitarian way: they are distinct, interconnected, and, above all, equally important. The significance of this thesis resides in its power to map the terrain of Trinitarian discourse in a way that is faithful to scripture, critically respectful of tradition, and fruitfully relevant to a broad range of contemporary concerns.

- Publisher
You May Also Be Interested In
About "The Divine Name and the Holy Trinity, the Volume #01 Distinguishing the Voices (S)"
Few things are so vital to Christian life yet so mired in controversy as the language we use to name the mystery of the Trinity. This project offers a fresh map of Trinitarian language that is simple, yet profound in its implications for theology and practice. Soulen proposes that sacred scripture gifts us with three patterns of naming the persons of the Trinity: a theo-logical pattern characterized by oblique reference to the Tetragrammaton (the divine name); a christo-logical pattern characterized by the kinship vocabulary of Father, Son, and Spirit; and a pneumato-logical pattern, characterized by the open-ended multiplicity of divine names. These patterns relate in a Trinitarian way: they are distinct, interconnected, and, above all, equally important. The significance of this thesis resides in its power to map the terrain of Trinitarian discourse in a way that is faithful to scripture, critically respectful of tradition, and fruitfully relevant to a broad range of contemporary concerns.
- Publisher


Meet the Author
R Kendall Soulen
Richard N. Soulen is Professor Emeritus of New Testament Studies at the Virginia Union University School of Theology in Richmond, Virginia.