The Dna of Relationships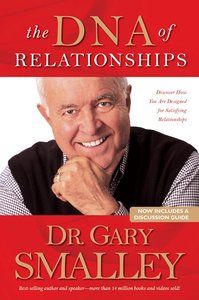 "Life is relationships; the rest is just details." We are designed for relationships, yet they often bring us pain. In this paradigm-shifting book, Gary Smalley unravels the DNA of relationships: we are made for three great relationships-with God, others, and ourselves-and all relationships involve choice. Gary exposes a destructive relationship dance that characterizes nearly every relationship conflict, and he offers five new dance steps that will revolutionize relationships. The DNA of Relationships, the cornerstone book in Gary Smalley's relationship campaign, will revolutionize your marriage, family, friendships, and work relationships.

- Publisher
You May Also Be Interested In
About "The Dna of Relationships"
"Life is relationships; the rest is just details." We are designed for relationships, yet they often bring us pain. In this paradigm-shifting book, Gary Smalley unravels the DNA of relationships: we are made for three great relationships-with God, others, and ourselves-and all relationships involve choice. Gary exposes a destructive relationship dance that characterizes nearly every relationship conflict, and he offers five new dance steps that will revolutionize relationships. The DNA of Relationships, the cornerstone book in Gary Smalley's relationship campaign, will revolutionize your marriage, family, friendships, and work relationships.
- Publisher


Meet the Author
Gary Smalley
Gary Smalley, one of the foremost experts on family relationships, has written or co-written 28 best-selling, award winning books selling over six millions copies, as well as several popular films and videos, based on more than 30 years of experience as a teacher, counsellor and speaker. The Blessing and The Two Sides of Love have won Gold Medallions, The Language of Love won the Angel Award as the best contribution to family life and all other titles have been top-five finalists for the Gold Medallion Award. His latest book is the DNA of Relationships. Gary and his wife, Norma, have been married for over thirty years.