The Doctrines of Grace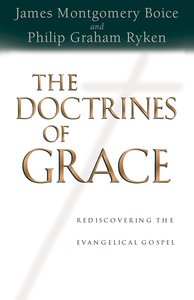 256 Pages

- Publisher How to Become a Christian 1. Admit that you have sinned."For all have sinned . . . If we say we have no sin, we deceive ourselves, and the truth is not in us."Romans 3:23,1 John 1:8Your sin separates you from God and leads to death. "God is light, and in him is no darkness at all."1 John 1:5"For the wages of sin is death . . ."Romans 6:23You cannot get rid of your sin on your own. "He saved us, not because of works done by us in righteousness, but according to his own mercy."Titus 3:5 2. Believe that Jesus Christ is the only one who can save you from your sins."And there is salvation in no one else, for there is no other name under heaven given among men by which we must be saved."Acts 4:12Jesus Christ, God's Son, led a sinless life, yet chose to be punished in our place. "For Christ also suffered once for sins, the righteous for the unrighteous, that he might bring us to God."1 Peter 3:18He died on a cross and was buried. Three days later, God raised Him to life again to prove that death was defeated. "Christ died for our sins in accordance with the Scriptures . . . he was buried . . . he was raised on the third day in accordance with the Scriptures . . . death no longer has dominion over him."1 Corinthians 15:3-4, Romans 6:9God offers to forgive our sins and invites us to spend eternity in Heaven with Him if we accept Christ's sacrifice on our behalf. "Everyone who believes in him receives forgiveness of sins through his name."Acts 10:43"Whoever hears my word and believes him who sent me has eternal life. He does not come into judgment, but has passed from death to life."John 5:24 3. Turn from your sins and invite Christ into your life."Repent therefore, and turn again, that your sins may be blotted out."Acts 3:19"If we confess our sins, he is faithful and just to forgive us our sins and to cleanse us from all unrighteousness."1 John 1:9"If you confess with your mouth that Jesus is Lord and believe in your heart that God raised him from the dead, you will be saved."Romans 10:9If you are ready to take this important step, talk to God right now and say something like this:Dear God, I admit that I have sinned. I believe that You sent Your Son, Jesus, to take the punishment I deserve. Then You raised Him to life again, so that I may have eternal life. I turn now from my sins and ask You to forgive me. Please come into my life and be my Savior and Lord. In Jesus' name, amen. What's Next?If you've just invited Christ into your life, here are some things you can do to grow in your relationship with Him: Read the Bible to learn more about God and His plan for your life. Pray to God often to share your joys and problems and to confess your sins. Attend a Bible-teaching church where you can worship God and get to know other Christians. Share your faith. You have just received a wonderful gift. Tell someone! Write to us. Let us know about your decision, and we will send you some free literature to help you get started.

- Publisher
You May Also Be Interested In
About "The Doctrines of Grace"
256 Pages
- Publisher

How to Become a Christian 1. Admit that you have sinned."For all have sinned . . . If we say we have no sin, we deceive ourselves, and the truth is not in us."Romans 3:23,1 John 1:8Your sin separates you from God and leads to death. "God is light, and in him is no darkness at all."1 John 1:5"For the wages of sin is death . . ."Romans 6:23You cannot get rid of your sin on your own. "He saved us, not because of works done by us in righteousness, but according to his own mercy."Titus 3:5 2. Believe that Jesus Christ is the only one who can save you from your sins."And there is salvation in no one else, for there is no other name under heaven given among men by which we must be saved."Acts 4:12Jesus Christ, God's Son, led a sinless life, yet chose to be punished in our place. "For Christ also suffered once for sins, the righteous for the unrighteous, that he might bring us to God."1 Peter 3:18He died on a cross and was buried. Three days later, God raised Him to life again to prove that death was defeated. "Christ died for our sins in accordance with the Scriptures . . . he was buried . . . he was raised on the third day in accordance with the Scriptures . . . death no longer has dominion over him."1 Corinthians 15:3-4, Romans 6:9God offers to forgive our sins and invites us to spend eternity in Heaven with Him if we accept Christ's sacrifice on our behalf. "Everyone who believes in him receives forgiveness of sins through his name."Acts 10:43"Whoever hears my word and believes him who sent me has eternal life. He does not come into judgment, but has passed from death to life."John 5:24 3. Turn from your sins and invite Christ into your life."Repent therefore, and turn again, that your sins may be blotted out."Acts 3:19"If we confess our sins, he is faithful and just to forgive us our sins and to cleanse us from all unrighteousness."1 John 1:9"If you confess with your mouth that Jesus is Lord and believe in your heart that God raised him from the dead, you will be saved."Romans 10:9If you are ready to take this important step, talk to God right now and say something like this:Dear God, I admit that I have sinned. I believe that You sent Your Son, Jesus, to take the punishment I deserve. Then You raised Him to life again, so that I may have eternal life. I turn now from my sins and ask You to forgive me. Please come into my life and be my Savior and Lord. In Jesus' name, amen. What's Next?If you've just invited Christ into your life, here are some things you can do to grow in your relationship with Him: Read the Bible to learn more about God and His plan for your life. Pray to God often to share your joys and problems and to confess your sins. Attend a Bible-teaching church where you can worship God and get to know other Christians. Share your faith. You have just received a wonderful gift. Tell someone! Write to us. Let us know about your decision, and we will send you some free literature to help you get started.
- Publisher


Meet the Authors
James Montgomery Boice
James Montgomery Boice (D.Theol., University of Basel, Switzerland) was until his death in 2000, the pastor of Tenth Presbyterian Church in Philadelphia, the teacher on "The Bible Study Hour" radio program and chairman of the board of City Centre Academy. In addition to authoring numerous journal articles, he was a consulting editor for the Expositor's Bible Commentary. His books and many Expository commentaries include Foundations of God's City and the five-volume work The Gospel of John.
-Editorial Review.
Philip Graham Ryken
Philip G Ryken (D.Phil., Oxford) joined the Staff of Tenth Presbyterian Church(PCA) in Philadelphia in 1995 and presently serves as Senior Minister.
He is the author of many books including What Is the Christian Worldview; The Message of Salvation (The Bible Speaks Today Themes;, The Doctrines of Grace: Rediscovering the Evangelical Gospel; Jeremiah, Exodus, and Ecclesiastes (Preaching the Word Series); Luke (2 vols), Galatians and 1 Timothy (Reformed Expository Commentary) and Ryken's Bible Handbook.
He also serves on Wheaton College (IL) Board of Trustees, Westminster Theological Seminary (PA) Board of Trustees, and as an Alliance of Confessing Evangelicals council member.
Koorong-Editorial Review.
Customer Reviews For "The Doctrines of Grace"
Write Your Own Review
A second or third book for understanding Reformed Theology
By Wally Bocos,

Aug 10 2017
I used this book as a refresher for a study I was going to lead in reformed theology. The book is as thorough as it can be in 226 pages. It handles a brief history of the reformed tradition with a short survey on the history of Calvin. 
Then in the following, the doctrines of Grace are explained under the familiar acronym TULIP. Like most respectable theologians Boice considers TULIP unhelpful and offers his alternatives. 

I would say it is not a first book on Reformed faith but and second or third. Personally, at times I found the writing style difficult to enjoy. 
{{review.title}}
By {{review.author.name}},

{{review.reviewCreatedDate | date:'MMM dd yyyy'}}

{{reviewdescription}}
{{review.text}}
---