The Domino Effect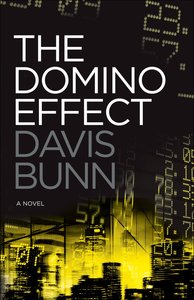 :A Financial Thriller That Will Keep Readers on the Edge of Their Seats

Esther Harding, a leading risk analyst at one of the country's largest banking institutions, is becoming more and more convinced that she has uncovered a ticking bomb with the potential to overshadow 2008's market crash. And as her own employer pursues "investment" strategies with ever-increasing levels of risk, she becomes convinced she must do something. Yet what can one person really do?

The markets are edging closer to a tipping point--like the teetering first domino in a standing row that circles the globe. And when Esther does sound the alarm, she wonders if anyone will take her seriously. But as public support grows for her ideas, so does the desperation of those whose conspiracy of greed she seeks to expose. With global markets on the brink, and her own life in danger, Esther is locked in a race with the clock to avert a worldwide financial meltdown.

This fast-paced suspense novel will make you wonder where the fiction ends and reality begins... .

Endorsement
"Davis Bunn applies his deft hand to The Domino Effect with the grace and mastery his dedicated fans have come to expect... ."--Jerry B. Jenkins

- Publisher
You May Also Be Interested In
About "The Domino Effect"
:A Financial Thriller That Will Keep Readers on the Edge of Their Seats

Esther Harding, a leading risk analyst at one of the country's largest banking institutions, is becoming more and more convinced that she has uncovered a ticking bomb with the potential to overshadow 2008's market crash. And as her own employer pursues "investment" strategies with ever-increasing levels of risk, she becomes convinced she must do something. Yet what can one person really do?

The markets are edging closer to a tipping point--like the teetering first domino in a standing row that circles the globe. And when Esther does sound the alarm, she wonders if anyone will take her seriously. But as public support grows for her ideas, so does the desperation of those whose conspiracy of greed she seeks to expose. With global markets on the brink, and her own life in danger, Esther is locked in a race with the clock to avert a worldwide financial meltdown.

This fast-paced suspense novel will make you wonder where the fiction ends and reality begins... .

Endorsement
"Davis Bunn applies his deft hand to The Domino Effect with the grace and mastery his dedicated fans have come to expect... ."--Jerry B. Jenkins
- Publisher


Meet the Author
Davis Bunn
Davis Bunn is an internationally-acclaimed author who has sold more than four million books in fifteen languages. Honoured with three Christy Awards for excellence in historical and suspense fiction, he has written several bestsellers, including The Great Divide, Winner Take All, The Meeting Place, The Book of Hours, Drummer in the Dark, To the Ends of the Earth, and The Quilt. Davis is also the co-author of the Song of Acadia series with Janette Oke. A sought-after lecturer in the art of writing, Davis Bunn has been named Novelist in Residence at Regent's Park College, Oxford University.