The Dream (Singing River Series)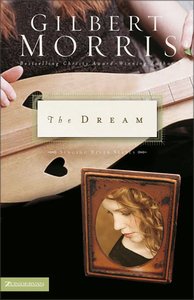 Lanie Freeman had to grow up fast. Her mother died when she was just fourteen and now her father is in prison. The oldest of five children, seventeen-year-old Lanie has transformed into a surrogate mother ... and a beautiful young woman. Not only must she keep her family together, but lately she has drawn the attention of Roger Langley, son of the richest man in town.Then the town of Fairhope is thrown into chaos when the new preacher arrives--wearing blue jeans and riding a motorcycle. In only a month, dashing Brother Colin Ryan shakes the entire town to the core of their beliefs.With the town embattled over the preacher, her family struggling to survive, and her own heart in turmoil, Lanie seeks solace in her writing. She pours out her heart to God, trusting his promises. But when things fall apart at every turn, will Lanie continue to trust?The Dream continues the inspiring saga of one woman's struggle to hold together her family and follow her dreams in the midst of America's dark

- Publisher Lanie Freeman's life changed swiftly and irrevocably with the death of her mother and the imprisonment of her father. She struggles to hold together her family, pursue her dreams, and follow her heart. Then the new preacher arrives-and Lanie's world is turned upside down! Book Two in the Singing River series.

- Publisher
You May Also Be Interested In
About "The Dream (Singing River Series)"
Lanie Freeman had to grow up fast. Her mother died when she was just fourteen and now her father is in prison. The oldest of five children, seventeen-year-old Lanie has transformed into a surrogate mother ... and a beautiful young woman. Not only must she keep her family together, but lately she has drawn the attention of Roger Langley, son of the richest man in town.Then the town of Fairhope is thrown into chaos when the new preacher arrives--wearing blue jeans and riding a motorcycle. In only a month, dashing Brother Colin Ryan shakes the entire town to the core of their beliefs.With the town embattled over the preacher, her family struggling to survive, and her own heart in turmoil, Lanie seeks solace in her writing. She pours out her heart to God, trusting his promises. But when things fall apart at every turn, will Lanie continue to trust?The Dream continues the inspiring saga of one woman's struggle to hold together her family and follow her dreams in the midst of America's dark
- Publisher

Lanie Freeman's life changed swiftly and irrevocably with the death of her mother and the imprisonment of her father. She struggles to hold together her family, pursue her dreams, and follow her heart. Then the new preacher arrives-and Lanie's world is turned upside down! Book Two in the Singing River series.
- Publisher


Meet the Author
Gilbert Morris
Gilbert Morris is one of todays best-known Christian novelists, specialising in historical fiction. His best-selling works include Edge of Honor (winner of a Christy Award in 2001), Jacobs Way, the House of Winslow series, the Appomattox series, and The Wakefield Saga. He lives in Gulf Shores, Alabama, with his wife, Johnnie. - Publisher.
Other Titles In The "Singing River Series" Series View All