The Elusive Miss Ellison (#01 in Regency Brides: A Legacy Of Grace Series)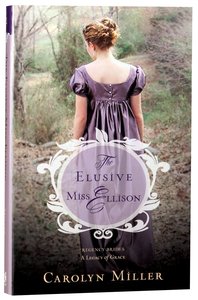 $19.99
$15.99
You Save: $4.00 (20%)
Paperback
Can feisty minister's daughter Livvie Ellison and bruised war hero Nicholas Stamford move past presumption to realise the true strength of love?
You May Also Be Interested In
About "The Elusive Miss Ellison (#01 in Regency Brides: A Legacy Of Grace Series)"
Can feisty minister's daughter Livvie Ellison and bruised war hero Nicholas Stamford move past presumption to realise the true strength of love?
- Koorong

:
"Handsome appearance counts for naught unless matched by good character and actions." That's the firm opinion of not-so-meek minister's daughter Lavinia Ellison. So even though all the other villagers of St. Hampton Heath are swooning over the newly returned seventh Earl of Hawkesbury, she is not impressed. If a man won't take his responsibilities seriously and help those who are supposed to be able to depend on him, he deserves no respect from her. In Lavinia's pretty, gray eyes, Nicholas Stamford is just as arrogant and reckless as his brother--who stole the most important person in Livvie's world.
Nicholas is weighed down by his own guilt and responsibility, by the pain his careless brother caused, and by the legacy of war he's just left. This quick visit home to St. Hampton Heath will be just long enough to ease a small part of that burden. Asking him to bother with the lives of the villagers when there's already a bailiff on the job is simply too much to expect. That is, until the hoydenish, intelligent, and very opinionated Miss Ellison challenges him to see past his pain and pride. With her angelic voice in his head, he may even be beginning to care. But his isn't the only heart that needs to change.
These two lonely hearts may each have something the other needs. But with society's opposition, ancestral obligations, and a shocking family secret, there may be too many obstacles in their way.
Fans of Georgette Heyer, Lori Wick, and Julie Klassen will enjoy the spirited exchanges between the bluestocking minister's daughter and the bruised war hero as they move past pride and presumption to a humbled appreciation of God's grace and the true strength of love.
- Publisher
Meet the Author
Carolyn Miller
Carolyn Miller lives in the beautiful Southern Highlands of New South Wales, Australia, with her husband and four children.

A longtime lover of romance, especially that of Jane Austen and Georgette Heyer's Regency era, Carolyn holds a BA in English Literature, and loves drawing readers into fictional worlds that show the truth of God's grace in our lives.

Customer Reviews For "The Elusive Miss Ellison (#01 in Regency Brides: A Legacy Of Grace Series)"
Write Your Own Review
for regency fans
By Marija,

Dec 01 2017
I always enjoy a good regency romance, and so was eager to read this novel by a new-to-me author. I enjoyed how the writing style and language reflected the Regency era, although at times I did find the novel to be a little stilted and contrived. However I still enjoyed the novel overall. I'd recommend this to Regency fans!
---
Fall in love with Grace
By Vickie,

Nov 28 2017
This story has it all, will she change, will he succumber. Intriguing twists and adventure. Some sad moments that will make you cry but by the end you are soaring. Please give the series Regency Brides - A Legacy of Grace a go you will not be disappointment.
---
Sparkling
By Christine Dillon,

Aug 03 2017
This book was one of my pleasant surprises for the year. I admit I read this book because I've met the author and have thoroughly enjoyed our encouraging communication.
I'm not a huge romance fan, although I do like Jane Austen.
This book made me laugh. Thoroughly enjoyed it. I loved the faith elements as it felt like they weren't just 'added' but were an integral part of the book.

I look forward to more of Carolyn's work. Especially hoping for some Australian stories in the future.
If you like Jane Austen, and humour but with some underlying serious themes, you'll love this.
---
Satisfying.
By Ibu Guru,

Aug 01 2017
There are some expressions which seem like direct quotes from Jane Austen books, which can be distracting but there are enough surprising twists to make the story unique and it is an easy enjoyable read.  I plan to get book 2 now.
---
Very Jane Austen
By Hannah,

Jun 13 2017
If you like Jane Austen's Pride and Prejudice, you'll enjoy this book as there are many similarities, although this one is told with a Christian worldview, delving into the challenge of balancing faith and love with pride and action. I enjoyed the witty repartee between the two main characters and found the story far more detailed than I expected with a few surprises along the way. Such fun to discover this new Australian author!

{{review.title}}
By {{review.author.name}},

{{review.reviewCreatedDate | date:'MMM dd yyyy'}}

{{reviewdescription}}
{{review.text}}
---
Other Titles In The "Regency Brides: A Legacy Of Grace Series" Series