The End of Religion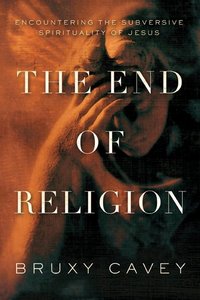 $17.99
$14.39
You Save: $3.60 (20%)
Paperback
Was Jesus of Nazareth an irreligious agitator? Was his message more radical than weve been led to believe? Has the Christian religion missed the point? Bruxy Cavey thinks so. In The End of Religion, Cavey contends that the Jesus described in the Bible never intended to found a new religion; instead he hoped to break down the very idea of religion as a way to God. With a fresh perspective on biblical stories, Cavey paints a picture of the world God originally intended and still desires: a world without religion.

- Publisher In The End of Religion, Bruxy Cavey shares that relationship has no room for religion. Believers and seekers alike will discover anew the wondrous promise found in our savior. And Christ's eternal call to walk in love and freedom will resonate with readers of all ages and denominations.

- Publisher
You May Also Be Interested In
About "The End of Religion"
Was Jesus of Nazareth an irreligious agitator? Was his message more radical than weve been led to believe? Has the Christian religion missed the point? Bruxy Cavey thinks so. In The End of Religion, Cavey contends that the Jesus described in the Bible never intended to found a new religion; instead he hoped to break down the very idea of religion as a way to God. With a fresh perspective on biblical stories, Cavey paints a picture of the world God originally intended and still desires: a world without religion.
- Publisher

In The End of Religion, Bruxy Cavey shares that relationship has no room for religion. Believers and seekers alike will discover anew the wondrous promise found in our savior. And Christ's eternal call to walk in love and freedom will resonate with readers of all ages and denominations.
- Publisher


Meet the Authors
Bruxy Cavey
Bruxy Cavey is the teaching pastor of The Meeting House, ldquo;a church for people who arenrsquo;t into church,rdquo; in the Greater Toronto Area, where spiritual seekers are encouraged to ask questions and develop a thoughtful faith. He lives in Hamilton, Ontario, with his wife, Nina; three daughters, Chelsea, Chanelle, and Maya; and Toby the wonder dog. Discover more at www.theendofreligion.org.
Brian Mclaren (Fwd)
Brian D. McLaren (MA, University of Maryland) is founding pastor of Cedar Ridge Community Church, an innovative, nondenominational church in the Baltimore-Washington region. He's also a senior fellow with emergent village(www.emergentvillage.org), a growing generative friendship of missional Christian leaders.
He is the author of three best selling books on Emergent beliefs written in the form of fiction The Last Word and the Word after That; A New Kind of Christian: A Tale of Two Friends on a Spiritual Journey and The Story We Find Ourselves In: Further Adventures of a New Kind of Christian.
Two books on Finding Faith, A Search for what is Real and A Search for What makes Sense
Three books on Emergent evangelism and culture, More Ready than you Realise; The Church on the other side: Doing ministry in the Postmodern matrix, and A Is for Abductive: The Language of the Emerging Church
Three books on Kingdom beliefs, A Generous Orthodoxy, The Secret Message of Jesus, and Everything must change: Jesus, Global Crisis and a Revolution of Hope. and a book on Emergent Spirituality Finding Our Way Again: The Return of the Ancient Practices .