The Endless Knot (#03 in Song Of Albion Series)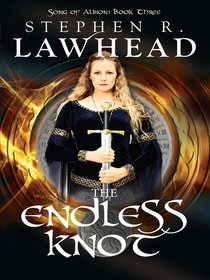 ?The balance is not restored. The Knot - the Endless Knot - is still unravelling.? Fire rages in Albion: a strange, hidden fire, dark-flamed, invisible to the eye. Seething and churning, it burns, gathering flames of darkness into its hot, black heart. Unseen and unknown, it burns? Llew Silver Hand is High King of Albion and the Brazen Man has defied his sovereignty. Llew must journey into the Foul Land to redeem his greatest treasure. The last battle begins. Celtic myth collides with modern life in a timeless story. With the Endless Knot, Lawhead strikes the final resounding chord in the Song of Albion. Now containing an interview with Stephen Lawhead covering the most-asked questions about the Song of Albion trilogy.

- Publisher
You May Also Be Interested In
About "The Endless Knot (#03 in Song Of Albion Series)"
?The balance is not restored. The Knot - the Endless Knot - is still unravelling.? Fire rages in Albion: a strange, hidden fire, dark-flamed, invisible to the eye. Seething and churning, it burns, gathering flames of darkness into its hot, black heart. Unseen and unknown, it burns? Llew Silver Hand is High King of Albion and the Brazen Man has defied his sovereignty. Llew must journey into the Foul Land to redeem his greatest treasure. The last battle begins. Celtic myth collides with modern life in a timeless story. With the Endless Knot, Lawhead strikes the final resounding chord in the Song of Albion. Now containing an interview with Stephen Lawhead covering the most-asked questions about the Song of Albion trilogy.
- Publisher


Meet the Author
Stephen Lawhead
Stephen R. Lawhead is an internationally acclaimed author of mythic history and imaginative fiction. His works include "Byzantium" and the series The Pendragon Cycle, The Celtic Crusades, and The Song of Albion. Lawhead makes his home in Austria with his wife.
Other Titles In The "Song Of Albion" Series