The Enemy Within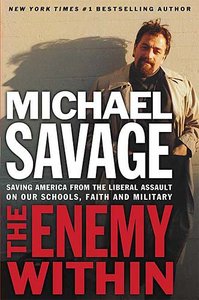 Talk radio sensation and New York Times bestselling author Michael Savage again goes for the jugular in this latest brash, incendiary attack on the corrosive effects of liberalism on our culture. Where The Savage Nation took shots at everything under the political spectrum, this book focuses squarely on the dangers assailing the cornerstones of American life, pointing out how liberal propaganda and agendas are seeping into our churches, our schools, even our families. Bold, sometimes angry, and always controversial, this book is pure, no-holds-barred Michael Savage, one of the strongest, most original voices in America today.

- Publisher 336 Pages

- Publisher Michael Savage, who debuted in 1995 with his own talk show in the very liberal San Francisco Bay Area, has since climbed to number one ratings around the country in syndication with the Talk Radio Network and is one of the most popular talk show hosts in the country. An independent-minded individualist, Savage attacks big government and liberal media bias, but champions the environment and animal rights. Under the name Michael A. Weiner, Ph.D., he authored Herbs That Heal, Maximum Immunity, and 15 other books on alternative health and medicine.Hometown: San Francisco, California

- Publisher
You May Also Be Interested In
About "The Enemy Within"
Talk radio sensation and New York Times bestselling author Michael Savage again goes for the jugular in this latest brash, incendiary attack on the corrosive effects of liberalism on our culture. Where The Savage Nation took shots at everything under the political spectrum, this book focuses squarely on the dangers assailing the cornerstones of American life, pointing out how liberal propaganda and agendas are seeping into our churches, our schools, even our families. Bold, sometimes angry, and always controversial, this book is pure, no-holds-barred Michael Savage, one of the strongest, most original voices in America today.
- Publisher

336 Pages
- Publisher

Michael Savage, who debuted in 1995 with his own talk show in the very liberal San Francisco Bay Area, has since climbed to number one ratings around the country in syndication with the Talk Radio Network and is one of the most popular talk show hosts in the country. An independent-minded individualist, Savage attacks big government and liberal media bias, but champions the environment and animal rights. Under the name Michael A. Weiner, Ph.D., he authored Herbs That Heal, Maximum Immunity, and 15 other books on alternative health and medicine.Hometown: San Francisco, California
- Publisher


Meet the Author
Michael Savage
Michael Savage is the host of the third largest radio talk show in the nation. Savage has worked as a factory worker, waiter, teacher, New York social worker, medicinal plant explorer, and scientist. He has a Ph.D. in epidemiology and nutritional science from the University of California, Berkeley.