The Enemy Within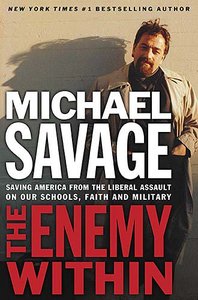 Michael Savage, by sizzling with passion and succinct genius, soared to become the #1 afternoon drive-time host in the San Francisco Bay Area. Now heard on more than 400 radio stations across the nation, the syndicated Michael Savage Show is breaking records from WOR in New York City to KXL in Portland, Oregon. His previous book, The Savage Nation, was a New York Times #1 bestseller.

- Publisher Talk radio sensation and "New York Times" bestselling author Michael Savage again goes for the jugular in this latest brash, incendiary attack on the corrosive effects of liberalism on our culture. Where "The Savage Nation "took shots at everything under the political spectrum, this book focuses squarely on the dangers assailing the cornerstones of American life, pointing out how liberal propaganda and agendas are seeping into our churches, our schools, even our families. Bold, sometimes angry, and always controversial, this book is pure, no-holds-barred Michael Savage, one of the strongest, most original voices in America today.

- Publisher America's Bravest, Brashest Voice is Back-As Ferocious and Cutting as Ever. "Where has six decades of radical, mad-dog liberalism brought us?" Savage asks in this electrifying book. "I'll tell you where: America is teetering on the cliffs of insanity." Written with the fire, the conviction, and the clear vision of a modern-day prophet, Savage returns with a vengeance in this lightning rod of a book, speaking for all Americans who are fed up and ticked off at the corrosive influence of today's "psycho liberals"-the Demoncats, as he calls them. "Their mantra: Celebrate perversity, embrace ultra-tolerance, pay rape-a-nations (so-called reparations), support affirmative racism, and provide government subsidies for every illegal who sneaks across the border." Michael Savage's powerful, unmatched mix of razor-sharp wit and explosive sociopolitical commentary has turned him into a cultural phenomenon, becoming not only one of America's most popular radio talk show hosts but also a best-selling author. And in this, his follow-up to The Savage Nation, Savage takes up where he left off, beating back the tentacles of today's ever-expanding liberalism, which threatens to destroy our most cherished institutions, and takes a stand for our schools, our churches, our armed forces, and, most important, our families.

- Publisher
You May Also Be Interested In
About "The Enemy Within"
Michael Savage, by sizzling with passion and succinct genius, soared to become the #1 afternoon drive-time host in the San Francisco Bay Area. Now heard on more than 400 radio stations across the nation, the syndicated Michael Savage Show is breaking records from WOR in New York City to KXL in Portland, Oregon. His previous book, The Savage Nation, was a New York Times #1 bestseller.
- Publisher

Talk radio sensation and "New York Times" bestselling author Michael Savage again goes for the jugular in this latest brash, incendiary attack on the corrosive effects of liberalism on our culture. Where "The Savage Nation "took shots at everything under the political spectrum, this book focuses squarely on the dangers assailing the cornerstones of American life, pointing out how liberal propaganda and agendas are seeping into our churches, our schools, even our families. Bold, sometimes angry, and always controversial, this book is pure, no-holds-barred Michael Savage, one of the strongest, most original voices in America today.
- Publisher

America's Bravest, Brashest Voice is Back-As Ferocious and Cutting as Ever. "Where has six decades of radical, mad-dog liberalism brought us?" Savage asks in this electrifying book. "I'll tell you where: America is teetering on the cliffs of insanity." Written with the fire, the conviction, and the clear vision of a modern-day prophet, Savage returns with a vengeance in this lightning rod of a book, speaking for all Americans who are fed up and ticked off at the corrosive influence of today's "psycho liberals"-the Demoncats, as he calls them. "Their mantra: Celebrate perversity, embrace ultra-tolerance, pay rape-a-nations (so-called reparations), support affirmative racism, and provide government subsidies for every illegal who sneaks across the border." Michael Savage's powerful, unmatched mix of razor-sharp wit and explosive sociopolitical commentary has turned him into a cultural phenomenon, becoming not only one of America's most popular radio talk show hosts but also a best-selling author. And in this, his follow-up to The Savage Nation, Savage takes up where he left off, beating back the tentacles of today's ever-expanding liberalism, which threatens to destroy our most cherished institutions, and takes a stand for our schools, our churches, our armed forces, and, most important, our families.
- Publisher


Meet the Author
Michael Savage
Michael Savage is the host of the third largest radio talk show in the nation. Savage has worked as a factory worker, waiter, teacher, New York social worker, medicinal plant explorer, and scientist. He has a Ph.D. in epidemiology and nutritional science from the University of California, Berkeley.