The Essential Guide to Children and Separation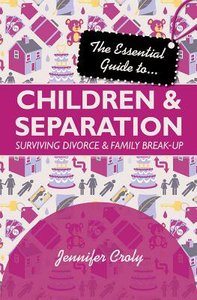 $

9.99

$

7.99
You Save: $2.00 (20%)
Paperback
Parents, grandparents, extended family, friends, teachers, youth workers and counsellors all need to know how to support children through the divorce process and in the years that follow. Each child will react differently, but some issues are common to all: the need to be listened to, coping with the grief that follows the destruction of the original family unit; having divided loyalties, dealing with the organisation necessary when a child has two homes; coming to terms with step-parents and step-families. This book is written with personal and professional insight, and also contains interviews with children who have gone through the adjustment process. It sheds light, brings hope and encouragement to anyone who is trying to help children through one of the most difficult of life's experiences.

- Publisher
You May Also Be Interested In
About "The Essential Guide to Children and Separation"
Parents, grandparents, extended family, friends, teachers, youth workers and counsellors all need to know how to support children through the divorce process and in the years that follow. Each child will react differently, but some issues are common to all: the need to be listened to, coping with the grief that follows the destruction of the original family unit; having divided loyalties, dealing with the organisation necessary when a child has two homes; coming to terms with step-parents and step-families. This book is written with personal and professional insight, and also contains interviews with children who have gone through the adjustment process. It sheds light, brings hope and encouragement to anyone who is trying to help children through one of the most difficult of life's experiences.
- Publisher


Meet the Author
Jennifer Croly
Jennifer Croly is a teacher of religious education at the secondary school level and lives in Devon, United Kingdom.