The Essential Guide to Prayer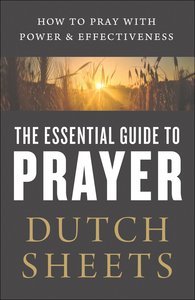 Life-Changing Teaching on Prayer from One of the Topic's Leading Authors

Based on years of ministry and experience, international prayer leader and bestselling author Dutch Sheets presents a real-world, hands-on foundation for prayer. With wisdom and practical insight, he helps you develop the core of an effective prayer life: a stronger, lasting relationship with God as Father and friend. He also shows you how to:
· make prayer a vital part of your life
· pray alone and in groups
· persist in prayer until you see God's answers
· become a powerful intercessor for those you love
· and more!

He even includes questions at the end of each chapter to help you immediately implement what you're learning.

"This book is really for all prayer warriors, whether just beginning or advanced."--Cindy Jacobs

- Publisher
You May Also Be Interested In
About "The Essential Guide to Prayer"
Life-Changing Teaching on Prayer from One of the Topic's Leading Authors

Based on years of ministry and experience, international prayer leader and bestselling author Dutch Sheets presents a real-world, hands-on foundation for prayer. With wisdom and practical insight, he helps you develop the core of an effective prayer life: a stronger, lasting relationship with God as Father and friend. He also shows you how to:
· make prayer a vital part of your life
· pray alone and in groups
· persist in prayer until you see God's answers
· become a powerful intercessor for those you love
· and more!

He even includes questions at the end of each chapter to help you immediately implement what you're learning.

"This book is really for all prayer warriors, whether just beginning or advanced."--Cindy Jacobs
- Publisher


Meet the Author
Dutch Sheets
Dutch Sheets is the Senior Pastor of Springs Harvest Fellowship in Colorado Springs, Colorado. He has served on the faculty of Christ for the Nations Institute, and now serves as an instructor for Destiny Bible School and is a guest lecturer for Wagner Leadership Institute. He serves on many ministry boards and is a best selling author with books including Intercessory Prayer, Watchman Prayer and How to Pray for Lost Loved Ones among others. He travels across America and other nations challenging believers for passionate prayer and world-changing revival. Dutch and his wife, Ceci, and their daughters, Sarah and Hannah, make their home in Colorado Springs. - Publisher.