The Evangelical's Guide to Spiritual Warfare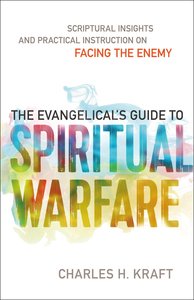 Are you aware of the spiritual battle being waged around you today?

The truth is that although spiritual warfare is a major theme in the Bible, many of us gloss over it--or ignore it completely. But 80 percent of the synoptic gospels addresses the battle with evil spirits, and Jesus and His disciples set a clear example for believers. We cannot afford to practice a powerless Christianity in a fallen world.

In this essential, accessible resource, former evangelical seminary professor and missionary Charles Kraft helps you find your footing in the spiritual battle. Based on a solid biblical foundation and on decades of ministry experience, this book will help you:

· Differentiate between myths and truths about spiritual warfare
· Recognize the everyday battles taking place around you
· Learn what demons really are and what they actually do
· Understand the rules for engaging the enemy
· Achieve victory in daily battles with the help of the Holy Spirit

Don't let fear keep you from engaging the spiritual forces at work around you. Some problems can't be overcome in any other way.

"This book is a must-read for anyone looking to engage in spiritual warfare." --Larry Richards, author of The Full Armor of God

"Dr. Kraft has removed the veil of mystery that has surrounded deliverance ministry for far too long. With truth and honesty, he has opened the door to the evangelical community and given us the tools to set the captives free."--Tim Howard, president and founder, Wellsprings of Freedom International

- Publisher
You May Also Be Interested In
About "The Evangelical's Guide to Spiritual Warfare"
Are you aware of the spiritual battle being waged around you today?

The truth is that although spiritual warfare is a major theme in the Bible, many of us gloss over it--or ignore it completely. But 80 percent of the synoptic gospels addresses the battle with evil spirits, and Jesus and His disciples set a clear example for believers. We cannot afford to practice a powerless Christianity in a fallen world.

In this essential, accessible resource, former evangelical seminary professor and missionary Charles Kraft helps you find your footing in the spiritual battle. Based on a solid biblical foundation and on decades of ministry experience, this book will help you:

· Differentiate between myths and truths about spiritual warfare
· Recognize the everyday battles taking place around you
· Learn what demons really are and what they actually do
· Understand the rules for engaging the enemy
· Achieve victory in daily battles with the help of the Holy Spirit

Don't let fear keep you from engaging the spiritual forces at work around you. Some problems can't be overcome in any other way.

"This book is a must-read for anyone looking to engage in spiritual warfare." --Larry Richards, author of The Full Armor of God

"Dr. Kraft has removed the veil of mystery that has surrounded deliverance ministry for far too long. With truth and honesty, he has opened the door to the evangelical community and given us the tools to set the captives free."--Tim Howard, president and founder, Wellsprings of Freedom International
- Publisher


Meet the Author
Charles H Kraft
Charles H. Kraft (Ph.D., Hartford Seminary Foundation) is Sun-Hee Kwak Professor of Anthropology and Intercultural Communication in the School of Intercultural Studies at Fuller Seminary, Pasadena, California.

He is the author of Christianity in Culture; Deep Wounds, Deep Healing; Defeating Dark Angels; Anthropology for Christian Witness and Communication Theory for Christian Witness. He has served as a missionary in Northern Nigeria, a professor in African languages at Michigan State University and UCLA, and part-time professor of anthropology at Biola University.
Some of his recent popular books include Two Hours to Freedom: A Simple and Effective Model for Healing and Deliverance; Confronting Powerless ChristianityEvangelicals and the Missing Dimension and I Give You Authority: Practising the Authority Jesus Gave us
Koorong -Editorial Review.