The Fairest Beauty (#03 in Hagenheim - My Fairy Tale Romance Series)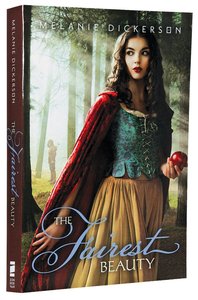 $

16.99

$

13.59
You Save: $3.40 (20%)
Paperback
A daring rescue. A difficult choice. Sophie desperately wants to get away from her stepmother's jealousy, and believes escape is her only chance to be happy. Then a young man named Gabe arrives from Hagenheim Castle, claiming she is betrothed to his older brother, and everything twists upside down. This could be Sophie's one chance at freedom---but can she trust another person to keep her safe? Gabe defied his parents Rose and Wilhelm by going to find Sophie, and now he believes they had a right to worry: the girl's inner and outer beauty has enchanted him. Though romance is impossible---she is his brother's future wife, and Gabe himself is betrothed to someone else---he promises himself he will see the mission through, no matter what. When the pair flee to the Cottage of the Seven, they find help---but also find their feelings for each other have grown. Now both must not only protect each other from the dangers around them---they must also protect their hearts.

- Publisher
You May Also Be Interested In
About "The Fairest Beauty (#03 in Hagenheim - My Fairy Tale Romance Series)"
A daring rescue. A difficult choice. Sophie desperately wants to get away from her stepmother's jealousy, and believes escape is her only chance to be happy. Then a young man named Gabe arrives from Hagenheim Castle, claiming she is betrothed to his older brother, and everything twists upside down. This could be Sophie's one chance at freedom---but can she trust another person to keep her safe? Gabe defied his parents Rose and Wilhelm by going to find Sophie, and now he believes they had a right to worry: the girl's inner and outer beauty has enchanted him. Though romance is impossible---she is his brother's future wife, and Gabe himself is betrothed to someone else---he promises himself he will see the mission through, no matter what. When the pair flee to the Cottage of the Seven, they find help---but also find their feelings for each other have grown. Now both must not only protect each other from the dangers around them---they must also protect their hearts.
- Publisher


Meet the Author
Melanie Dickerson
Melanie Dickerson is the award-winning author of The Healerfds Apprentice and a member of American Christian Fiction Writers (ACFW) and Romance Writers of America (RWA). A graduate of The University of Alabama, she lives in Huntsville, Alabama, with her husband and two daughters. Visit her online at www.melaniedickerson.com . Most recently she has written The Merchant's Daughter and The Ask Bethany both available on (Ebook, ePub)
Media
Customer Reviews For "The Fairest Beauty (#03 in Hagenheim - My Fairy Tale Romance Series)"
Write Your Own Review
Amazing book!
By Yas,

May 21 2018
Love this so much. I've read it about 4 times through. Definitely recommend
---
Exhilarating story
By Amy,

Jan 04 2018
The Fairest Beauty is so exciting I couldn't put it down!
Sophie has had a hard life and struggles to trust people. Through God and the love of friends, Sophie discovers only God can heal her and she needs to cast her burdens on Him every day. 
---
Pretty servant? Or missing princess?
By Joy,

Oct 01 2017
When Gabe, the son of Duke Wilhelm hears that Sophie the missing princess and daughter of Duke Baldewin is alive he sets off to find her but will he succeed when Sophie is so disguised even she does not know her own identity? If you can already feel suspense rising and you wanna find out you should sit back and enjoy this thrilling book!
---
You can't stop Snow White from showing her inner self...
By Grace,

Aug 23 2017
If Duchess Ermengard can't stop Sophie from showing her beauty, who can? Sophie is the daughter of a Duke... except not treated like one. Using her as a servant, the duchess thinks she can change Sophie's future. On the other hand, Gabe is in pursuit to save his brother's betrothed. Find out how Sophie and Gabe escape Ermengard, find Duke Baldewin and fall in love....
---
intrigue writing
By Mimi,

Jan 10 2017
Mirror, mirror, on the wall. Which book is the most awesome of all? 
The Fairest Beauty.
A wonderful and well-told love story, talking about following what God puts in your heart. It's a mind blowing tale, not allowing you to pull your eyes from the pages. It takes on a magical adventure with Sophie and Gabe finding their true identity and falling in love. It has all it takes to be the best book in history!!!
{{review.title}}
By {{review.author.name}},

{{review.reviewCreatedDate | date:'MMM dd yyyy'}}

{{reviewdescription}}
{{review.text}}
---
Other Titles In The "Hagenheim - My Fairy Tale Romance" Series View All