The Faith of William Shakespeare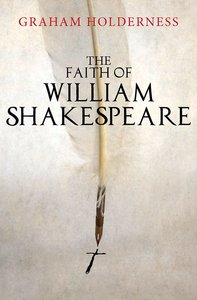 William Shakespeare stills stands head and shoulders above any other author in the English language, a position that is unlikely ever to change. Yet it is often said that we know very little about him ? and that applies as much to what he believed as it does to the rest of his biography. Or does it? In this authoritative new study, Graham Holderness takes us through the context of Shakespeare's life, times of religious and political turmoil, and looks at what we do know of Shakespeare the Anglican. But then he goes beyond that, and mines the plays themselves, not just for the words of the characters, but for the concepts, themes and language which Shakespeare was himself steeped in ? the language of the Bible and the Book of Common Prayer. Considering particularly such plays as Richard ll, Henry V, The Merchant of Venice, Measure for Measure, Hamlet, Othello, The Tempest and The Winter's Tale, Holderness shows how the ideas of Catholicism come up against those of Luther and Calvin; how Christianity was woven deep into Shakespeare's psyche, and how he brought it again and again to his art.

- Publisher
You May Also Be Interested In
About "The Faith of William Shakespeare"
William Shakespeare stills stands head and shoulders above any other author in the English language, a position that is unlikely ever to change. Yet it is often said that we know very little about him ? and that applies as much to what he believed as it does to the rest of his biography. Or does it? In this authoritative new study, Graham Holderness takes us through the context of Shakespeare's life, times of religious and political turmoil, and looks at what we do know of Shakespeare the Anglican. But then he goes beyond that, and mines the plays themselves, not just for the words of the characters, but for the concepts, themes and language which Shakespeare was himself steeped in ? the language of the Bible and the Book of Common Prayer. Considering particularly such plays as Richard ll, Henry V, The Merchant of Venice, Measure for Measure, Hamlet, Othello, The Tempest and The Winter's Tale, Holderness shows how the ideas of Catholicism come up against those of Luther and Calvin; how Christianity was woven deep into Shakespeare's psyche, and how he brought it again and again to his art.
- Publisher


Meet the Author
Graham Holderness
Graham Holderness is Research Professor in English at the University of Hertfordshire, and a prolific author and critic. He has written and had published over 40 books, including drama, poetry and novels, but the majority of his output, and his articles, are on William Shakespeare. He has also taught for the Open University, Oxford and Roehampton.