The Family You've Always Wanted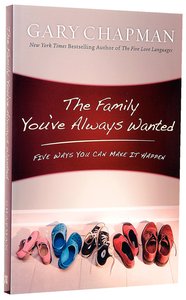 Many feel bombarded by images and experiences of broken families. This is not how God intended families to be! So often we examine the traits of unhealthy families, but Gary Chapman paints a biblical portrait of what a loving, stable family looks like. This book is not just to be read, but experienced. Chapman details five timeless characteristics that create a healthy family environment:

- An attitude of service.
- Intimacy between husband and wife.
- Parents who teach and train.
- Children who obey and honor parents.
- Husbands who are loving leaders.

In Dr. Chapman's own words, "What happens to your family does make a difference not only to you and your children, but to the thousands of young observers who are in search of a functional family."



- Publisher
You May Also Be Interested In
About "The Family You've Always Wanted"
Many feel bombarded by images and experiences of broken families. This is not how God intended families to be! So often we examine the traits of unhealthy families, but Gary Chapman paints a biblical portrait of what a loving, stable family looks like. This book is not just to be read, but experienced. Chapman details five timeless characteristics that create a healthy family environment:

- An attitude of service.
- Intimacy between husband and wife.
- Parents who teach and train.
- Children who obey and honor parents.
- Husbands who are loving leaders.

In Dr. Chapman's own words, "What happens to your family does make a difference not only to you and your children, but to the thousands of young observers who are in search of a functional family."


- Publisher


Meet the Author
Gary Chapman
New York Times best-selling author, Dr. Gary Chapman seeks to fulfil his call to the ministry as a pastor, speaker, and author. He speaks extensively throughout the U.S. and internationally on marriage, family, and relationships. The government of Singapore invited him to present his marriage seminar there and the Chaplainfds Office of NATO issued a special invitation for Dr. Chapman to speak to the NATO forces in Germany. Other engagements have taken him to England, Africa, Saudi Arabia, Turkey, Mexico and Hong Kong.

Sales exceeding 5 million copies earned him the Platinum Book Award from the Evangelical Publishers Association for The Five Love Languages, which has been translated into over 36 languages. Almost 30 other books including: The whole Love Languages series; The Five Languages of Apology; Desperate Marriages: Moving Toward Hope and Healing in Your Relationship; Now What? Marriage After Children; Profit Sharing: Making Money An Asset in Your Marriage and Anger: Handling a Powerful Emotion in a Healthy Way, Love is a Verb; God Speaks Your Love Language; The Family You've Always Wanted, plus five DVD series are also among his publications. He also hosts a weekly radio program Building Relationships with Dr. Gary Chapman, which airs on more than 170 stations.

On the home front, Dr. Chapman is Senior Associate Pastor of Calvary Baptist Church in Winston-Salem, North Carolina with over 35 years of pastoring and marriage counselling experience. He and his wife, Karolyn, have two adult children and two grandchildren.

Dr Gary Chapman holds the following educational qualifications:

Southwestern Baptist Theological Seminary
Ph.D., Adult Education
M.R.E., Education Administration

Wake Forest University
M.A., Anthropology

Wheaton College
B.A., Anthropology; Minor: Bible

Moody Bible Institute
Diploma, Pastor's Course

Duke University
Graduate work: History of Education; Educational Psychology

University of North Carolina
Graduate work: Philosophy of Education; Comparative Education
- Publisher.
Table Of Contents
acknowledgements
introduction
prologue: An Outsider In The Family

part 1: Families Who Serve
1. From Pain To Pleasure: A Personal Journey
2. How Families Serve

part 2: Husbands And Wives Who Relate Intimately
3. Our Longing For Closeness
4. Five Steps To Intimacy

part 3: Parents Who Guide
5. Talking, Doing, Learning
6. The Challenge Of Creative Teaching
7. The Challenge Of Consistent Training

part 4: Children Who Obey And Honor Parents
8. Why Obedience Matters
9. The Gift Of Honor

part 5: Husbands Who Love And Lead
10. The Meaning Of "leading'
11. What Fathers Do For Their Families
12. For Wives Only: The Fine Art Of Encouraging

epilogue
a Word From Shelley And Derek
personal Assessments: Your Turn
notes
resources