The Fire That Consumes (3rd Edition)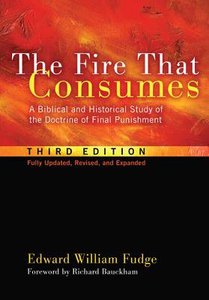 Evangelical Christians affirm together that a dreadful destiny awaits those who reject God's grace throughout life. According to the traditional view, that destiny will involve unending conscious torment in hell. However, believers are increasingly questioning that understanding, as both unbiblical and inconsistent with the character of God revealed in the Scriptures and in the man Jesus Christ. This internationally acclaimed book--now fully updated, revised, and expanded--carefully examines the complete teaching of Scripture on the subject of final punishment. It concludes that hell is a place of total annihilation, everlasting destruction, although the destructive process encompasses conscious torment of whatever sort, intensity, and duration God might require in each individual case.

- Publisher
You May Also Be Interested In
About "The Fire That Consumes (3rd Edition)"
Evangelical Christians affirm together that a dreadful destiny awaits those who reject God's grace throughout life. According to the traditional view, that destiny will involve unending conscious torment in hell. However, believers are increasingly questioning that understanding, as both unbiblical and inconsistent with the character of God revealed in the Scriptures and in the man Jesus Christ. This internationally acclaimed book--now fully updated, revised, and expanded--carefully examines the complete teaching of Scripture on the subject of final punishment. It concludes that hell is a place of total annihilation, everlasting destruction, although the destructive process encompasses conscious torment of whatever sort, intensity, and duration God might require in each individual case.
- Publisher


Meet the Author
Edward William Fudge
Dr Edward Fudge (D.Juris., University of Houston) is a theologian and practicing lawyer based in Texas. He is the author of The Fire That Consumes: A Biblical and Historical Study of the Doctrine of Final Punishment and co-author of Two Views on Hell
Customer Reviews For "The Fire That Consumes (3rd Edition)"
Write Your Own Review
Well Researched
By Tanwin,

Nov 17 2016
In the last 2 months I have been on a doctrinal journey (I still am). You see, I stumbled upon the doctrine of Annihilationism (or what I prefer Conditional Mortality). Well, I've heard Annihilationism before and my knee-jerk reaction was to label it as a heresy and did not study further. Until recently.
So I was intrigued by the arguments people have for Annihilationism so I was looking for a good source to study. Apparently there is not many books written on the subject. However I stumbled upon this one.
In short, this is a "go to" book if you want to know more about Annihilationism. Fudge covers both biblical and historical aspects of the argument. He also shows how the traditional view of hell came about and how it was excepted as orthodoxy. This is just one excellent book on Annihilationism. It has everything you need to learn about the doctrine. The book is heavily reseached and well written.
As for my journey, I'm still on that road. I haven't made any decision yet. But what I can do is quote scholar Ben Witherington III about Annihilationism that mirrors my current state. He said that Annihilationism is "exegetically defensible" and "theologically coherent". So this is worthy of a serious consideration.
The journey continues...
5 out of 5
---
Extremely Helpful Book on Understanding God's Final Judgement
By Ben,

Oct 24 2016
This book is essential reading when it comes to what the Bible teaches about Hell - whether one agrees with Fudge's conclusions or not. The essential question of the book is, 'What will Hell be like?' 

Fudge argues that while most Christians assume (based on tradition and some verses in the Bible) that the Bible teaches 'eternal conscious torment', the Bible itself actually seems to indicate that those who go to Hell are eventually annihilated and cease to exist. As Jesus says, "fear the One who can DESTROY both soul and body in Hell" (Matthew 10:28).

Fudge is extremely careful to lay out in the early chapters that the Bible alone (rather than tradition) has to be our final authority, and he puts this into practice in the rest of the book, systematically working through what the Bible actually teaches.

He also has some great chapters looking at how Hell has been understood throughout history. This book is not exactly light reading, but if you're willing to take the time, this book pays great dividends. Highly recommended.
---
Essential reading
By David,

Oct 12 2012
Like most Christians I suppose, I had always held to the traditional view on Hell. I dogmatically taught on the subject and have even written tracts that spoke of burning in Hell for all eternity. It wasn't until I had to write a paper on the subject that I took the time to research it that I came across this book. Fudge very systematically explains the "conditional mortality" view calmly and with great diligence. Beginning with the Hellistic concept of a naturally immortal soul and the sense of permanence implied in the word "eternal" (as opposed to on-going), Fudge takes his readers through the strengths and weaknesses of annihilationism. Every student, pastor, and evangelist really would be doing themselves a favour by reading The Fire That Consumes. It really has changed the way I view the afterlife.
{{review.title}}
By {{review.author.name}},

{{review.reviewCreatedDate | date:'MMM dd yyyy'}}

{{reviewdescription}}
{{review.text}}
---