The Friends of Jesus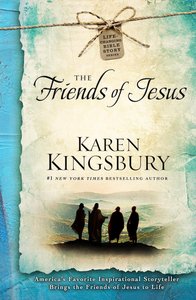 America's favorite inspirational novelist and #1 New York Times bestselling author paints vividly realized portraits of six of Jesus' closest friends and companions, bringing biblical truths to life in this captivating continuation of her Life-Changing Bible Story series.

In our everyday lives, friends are the people whom we spend the most time with, go through struggles with, and who know us best. Each of Jesus' friends-Peter, John, Matthew, Judas, Mary Magdalene, and Lazarus-traveled with Jesus and were part of His daily ministry, and each has a compelling story to tell. There were some who would question or doubt Him...and one would even betray Him. Kingsbury brings these fascinating personalities to life in ways that will not only help bring you closer to the truths found in Scripture, but also to Christ.

By combining valuable, instructive Bible study with compelling, insightful character sketches of Jesus' companions, Kingsbury provides you with a deeper understanding of the scriptural teachings featuring these fascinating people. Emotionally powerful, thought-provoking, and soulful, The Friends of Jesus will help you to appreciate the Bible and understand how it applies to your relationships with the most important people in your life.

- Publisher
You May Also Be Interested In
About "The Friends of Jesus"
America's favorite inspirational novelist and #1 New York Times bestselling author paints vividly realized portraits of six of Jesus' closest friends and companions, bringing biblical truths to life in this captivating continuation of her Life-Changing Bible Story series.

In our everyday lives, friends are the people whom we spend the most time with, go through struggles with, and who know us best. Each of Jesus' friends-Peter, John, Matthew, Judas, Mary Magdalene, and Lazarus-traveled with Jesus and were part of His daily ministry, and each has a compelling story to tell. There were some who would question or doubt Him...and one would even betray Him. Kingsbury brings these fascinating personalities to life in ways that will not only help bring you closer to the truths found in Scripture, but also to Christ.

By combining valuable, instructive Bible study with compelling, insightful character sketches of Jesus' companions, Kingsbury provides you with a deeper understanding of the scriptural teachings featuring these fascinating people. Emotionally powerful, thought-provoking, and soulful, The Friends of Jesus will help you to appreciate the Bible and understand how it applies to your relationships with the most important people in your life.
- Publisher


Meet the Author
Karen Kingsbury
Karen Kingsbury is America's favorite inspirational novelist with over 5 million books in print. Her Life-Changing Fiction has produced multiple bestsellers including Even Now, One Tuesday Morning, Beyond Tuesday Morning, and the popular Redemption Series. An award-winning author and newly published songwriter, Karen has had several movies optioned for production and her Christmas novel, Gideon's Gift, is as a major motion picture.