The Generosity Ladder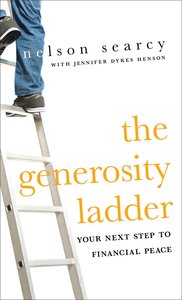 The Generosity Ladder is the quintessential guidebook for anyone who desires to handle money with excellence. Written as an answer to all of the questions and misunderstandings that surround the intersection of God and money, The Generosity Ladder clarifies, once and for all, what the Bible really says about honoring God with our finances and details a step-by-step plan for attaining financial excellence.
Published alongside Maximize, Nelson Searcy's much-anticipated stewardship guidebook for church leaders, The Generosity Ladder will allow laypeople to fully grasp God's plan for their finances, acknowledge their current level of stewardship, and chart out the steps they need to take in order to handle money in a way that honors God.

- Publisher
You May Also Be Interested In
About "The Generosity Ladder"
The Generosity Ladder is the quintessential guidebook for anyone who desires to handle money with excellence. Written as an answer to all of the questions and misunderstandings that surround the intersection of God and money, The Generosity Ladder clarifies, once and for all, what the Bible really says about honoring God with our finances and details a step-by-step plan for attaining financial excellence.
Published alongside Maximize, Nelson Searcy's much-anticipated stewardship guidebook for church leaders, The Generosity Ladder will allow laypeople to fully grasp God's plan for their finances, acknowledge their current level of stewardship, and chart out the steps they need to take in order to handle money in a way that honors God.
- Publisher


Meet the Author
Nelson Searcy
Nelson Searcy served as the director of The Purpose Driven Community at Saddleback Church before starting The Journey Church of the City in New York City in 2002. He and his 1200-member church appear routinely on lists such as The 50 Most Influential Churches and The 25 Most Innovative Leaders.
His newsletter for pastors and church leaders, Church Leader Insights, now reaches more than 40,000 subscribers and continues to grow by hundreds each month. Searcy lives in New York City and recently had published Ignite: How to Spark Immediate Growth in Your Church; The Generosity Ladder: Your Next Step to Financial Peace and Maximize: How to Develop Extravagant Givers in Your Church.