The Girl in the Orange Dress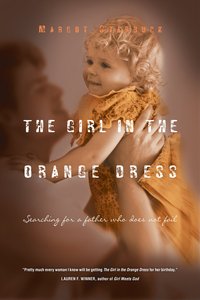 Winner of the 2011 Golden Scroll Nonfiction Book of the Year."Chosen." "Special." Those are the words Margot Starbuck used to describe herself as a child adopted into a loving family. And when her adoptive parents divorced, her dad moved east, and her mom and dad each got remarried, she told herself that she was extra loved, since she had more than two parents and people in different times zones who cared about her.But the word she really believed about herself was rejected. First by her birthparents. Then by her adoptive father-when he moved away. Then by her stepfather. Then by her birthfather a second time, when she tried to invite him into her life.Most of all, Margot felt rejected by God the Father, who she also suspected could not be trusted. Margot's story begins with a woman looking for her biological father. But it doesn't end when she finds him. Instead, his rejection punctures her soul and sends her on a different search--one that leads to a different Father. This Father did not just "sacrifice a son" like the parents she knew, but instead gave his own life out of love for her.Maybe you've been disappointed and wounded by parents who divorced, left, were abusive, or simply weren't there. Enter into Margot's story. She has been where you are. She knows the pain you carry. And her journey can lead you to the God who nurtures, protects and always says, "I am for you."

- Publisher
You May Also Be Interested In
About "The Girl in the Orange Dress"
Winner of the 2011 Golden Scroll Nonfiction Book of the Year."Chosen." "Special." Those are the words Margot Starbuck used to describe herself as a child adopted into a loving family. And when her adoptive parents divorced, her dad moved east, and her mom and dad each got remarried, she told herself that she was extra loved, since she had more than two parents and people in different times zones who cared about her.But the word she really believed about herself was rejected. First by her birthparents. Then by her adoptive father-when he moved away. Then by her stepfather. Then by her birthfather a second time, when she tried to invite him into her life.Most of all, Margot felt rejected by God the Father, who she also suspected could not be trusted. Margot's story begins with a woman looking for her biological father. But it doesn't end when she finds him. Instead, his rejection punctures her soul and sends her on a different search--one that leads to a different Father. This Father did not just "sacrifice a son" like the parents she knew, but instead gave his own life out of love for her.Maybe you've been disappointed and wounded by parents who divorced, left, were abusive, or simply weren't there. Enter into Margot's story. She has been where you are. She knows the pain you carry. And her journey can lead you to the God who nurtures, protects and always says, "I am for you."
- Publisher


Meet the Author
Margot Starbuck
Margot Starbuck (M.Div. Princeton Theological Seminary) is a popular speaker at conferences and retreats and on college campuses. Previously Starbuck worked for six years as the Director of Spiritual Development at the Eastern Christian Children's Retreat in Wyckoff, New Jersey, serving women and men living with disabilities. She also served as the interim pastor at Ponds Reformed Church in Oakland, New Jersey.


Starbuck's recent activities include writing for a variety of publications such as Rev!, Pray and Neueserving as a volunteer with Reality Ministries, where she has the privilege of being friends with teens living with disabilities. She has recently written The Girl in the Orange Dress: Searching for a Father Who Does Not Fail and Unsqueezed: Springing Free from Skinny Jeans, Nose Jobs, Highlights and Stilettos.
Table Of Contents
Winner Of The 2011 Golden Scroll Nonfiction Book Of The Year."chosen." "special." Those Are The Words Margot Starbuck Used To Describe Herself As A Child Adopted Into A Loving Family. And When Her Adoptive Parents Divorced, Her Dad Moved East, And Her Mom And Dad Each Got Remarried, She Told Herself That She Was Extra Loved, Since She Had More Than Two Parents And People In Different Times Zones Who Cared About Her.but The Word She Really Believed About Herself Was Rejected. First By Her Birthparents. Then By Her Adoptive Father-when He Moved Away. Then By Her Stepfather. Then By Her Birthfather A Second Time, When She Tried To Invite Him Into Her Life.most Of All, Margot Felt Rejected By God The Father, Who She Also Suspected Could Not Be Trusted. Margot's Story Begins With A Woman Looking For Her Biological Father. But It Doesn't End When She Finds Him. Instead, His Rejection Punctures Her Soul And Sends Her On A Different Search--one That Leads To A Different Father. This Father Did Not Just "sacrifice A Son" Like The Parents She Knew, But Instead Gave His own Life Out Of Love For Her.maybe You've Been Disappointed And Wounded By Parents Who Divorced, Left, Were Abusive, Or Simply Weren't There. Enter Into Margot's Story. She Has Been Where You Are. She Knows The Pain You Carry. And Her Journey Can Lead You To The God Who Nurtures, Protects And Always Says, "i Am For You."

2 Dumpster Diving And Other Social Disasters

3 Love Child

4 Sleuthing Around

5 Welcome To Oz

6 One Wily Emotion Chip

7 Looking For Love In Too Many Faces

8 Stranded In A Scorpion Desert

9 Claimed By The Good Tribe

10 God's Cool Tatoo

Acknowledgments