The God I Love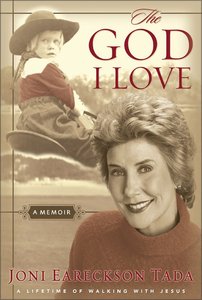 A little girl on a big horse, cantering across a spring-green pasture...wide-eyed children gathered 'round a beach fire, listening to a father's stories of the high seas... an expansive, you-can-see-forever view from the top of Pike's Peak...Another view from a Stryker frame, where an active young woman learns she will never walk again... Heading down a church aisle to marry the man she loves...looking into the eyes of a child in a wheelchair, and seeing the family God has prepared for a loving heart...sitting by the pool of Bethesda, reflecting on the miracle of healing God has performed in her heart...The God I Love brings to life these and many other moments. It offers an eternal perspective from a woman in a wheelchair who affirms that the God she knows and loves is the center, the peacemaker, the passport to adventure, the joy ride, and the answer to her deepest longings.Raised in an active, adventurous family, Joni Eareckson Tada worked hard and played hard to keep up with her o

- Publisher
You May Also Be Interested In
About "The God I Love"
A little girl on a big horse, cantering across a spring-green pasture...wide-eyed children gathered 'round a beach fire, listening to a father's stories of the high seas... an expansive, you-can-see-forever view from the top of Pike's Peak...Another view from a Stryker frame, where an active young woman learns she will never walk again... Heading down a church aisle to marry the man she loves...looking into the eyes of a child in a wheelchair, and seeing the family God has prepared for a loving heart...sitting by the pool of Bethesda, reflecting on the miracle of healing God has performed in her heart...The God I Love brings to life these and many other moments. It offers an eternal perspective from a woman in a wheelchair who affirms that the God she knows and loves is the center, the peacemaker, the passport to adventure, the joy ride, and the answer to her deepest longings.Raised in an active, adventurous family, Joni Eareckson Tada worked hard and played hard to keep up with her o
- Publisher


Meet the Author
Joni Eareckson Tada
Joni Eareckson Tada has known the grace of God for 30 years after being after being paralysed from the neck down in a diving accident. Joni is president of JAF Ministries, an organization that accelerates Christian ministry among people with disabilities. She is also host of 'Joni and Friends', a daily radio program in the USA operating out of the International Disability Centre and a sought after conference speaker.
She is the author of more than 30 books, including the bestsellers Diamonds in the Dust, Heaven, and More Precious Than Silver.
In 2003 she was given the Gold Medallion Award for her book When God Weeps and in 2004 for co-authoring Hymns for a Kid's Heart, Volume 1. Her award winning and best-selling autobiography, Joni, was adapted as a full-length feature film. Tada also serves in an advisory capacity to many Institutes concerned with disability, writing and evangelism worldwide. She has been given many awards and holds several honourary doctorates. Joni and her husband, Ken, live in Southern California.
Table Of Contents
Contents

Part One | 9

One....11

Two ....25

Three.....36

Four ....49

Five.....64

Six.....76

Seven .....80

Part Two | 93

Eight.....95

Nine.....107

Ten ....113

Eleven .....124

Twelve....137

Thirteen .... 147

Part Three | 159

Fourteen .....161

Fifteen .....174

Sixteen.....186

Seventeen .....200part 1

Eighteen....212

Nineteen....227

Part Four | 241

Twenty....243

Twenty-one .....256

Twenty-two ....269

Twenty-three .....279

Twenty-four.....292

Twenty-five ......303

Twenty-six ....307

Twenty-seven.....321

Twenty-eight .....331

Twenty-nine.....346