The God-Shaped Brain: How Changing Your View of God Transforms Your Life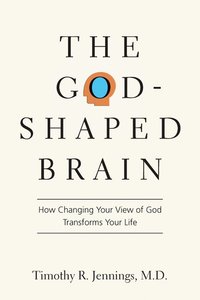 What you believe about God actually changes your brain.Brain research in neuroscience has found that our thoughts and beliefs affect our physical, mental and spiritual health. Mind and body are interrelated, and we are designed for healthy relationships of love and trust. When we understand God as good and loving, we flourish. Unfortunately, many of us have distorted images of God and mostly think of him in fearful, punitive ways. This leads us into unhealthy patterns of self-defeating behaviors and toxic relationships. But our lives can change when God renews our minds with a truer picture of him.Psychiatrist Tim Jennings unveils how our brains and bodies thrive when we have a healthy understanding of who God is. He dispels common misconceptions about God and shows how different God concepts affect the brain differently. Our brains can adapt, change and rewire with redeemed thinking that frees us from unnecessary pain and suffering. Discover how neuroscience and Scripture come together to bring healing and transformation to our lives.

- Publisher
You May Also Be Interested In
About "The God-Shaped Brain: How Changing Your View of God Transforms Your Life"
What you believe about God actually changes your brain.Brain research in neuroscience has found that our thoughts and beliefs affect our physical, mental and spiritual health. Mind and body are interrelated, and we are designed for healthy relationships of love and trust. When we understand God as good and loving, we flourish. Unfortunately, many of us have distorted images of God and mostly think of him in fearful, punitive ways. This leads us into unhealthy patterns of self-defeating behaviors and toxic relationships. But our lives can change when God renews our minds with a truer picture of him.Psychiatrist Tim Jennings unveils how our brains and bodies thrive when we have a healthy understanding of who God is. He dispels common misconceptions about God and shows how different God concepts affect the brain differently. Our brains can adapt, change and rewire with redeemed thinking that frees us from unnecessary pain and suffering. Discover how neuroscience and Scripture come together to bring healing and transformation to our lives.
- Publisher


Meet the Author
Timothy R Jennings Md
Timothy R. Jennings, MD has been in private practice as a Christian psychiatrist and certified master psychopharmacologist since 1997. Board certified in psychiatry by the American Board of Psychiatry and Neurology, he is a specialist in transcranial magnetic stimulation, a drug-free treatment for depression. Dr. Jennings is a Distinguished Fellow of the American Psychiatric Association, Life Fellow of the Southern Psychiatric Association, and past president of both the Tennessee and Southern Psychiatric Associations. He has spent more than two decades researching the interface between biblical principles and modern brain science and is a highly sought after lecturer and international speaker, and the author of The God-Shaped Brain. He is in private practice in Chattanooga, Tennessee.
Table Of Contents
What You Believe About God Actually Changes Your Brain.brain Research In Neuroscience Has Found That Our Thoughts And Beliefs Affect Our Physical, Mental And Spiritual Health. Mind And Body Are Interrelated, And We Are Designed For Healthy Relationships Of Love And Trust. When We Understand God As Good And Loving, We Flourish. Unfortunately, Many Of Us Have Distorted Images Of God And Mostly Think Of Him In Fearful, Punitive Ways. This Leads Us Into Unhealthy Patterns Of Self-defeating Behaviors And Toxic Relationships. But Our Lives Can Change When God Renews Our Minds With A Truer Picture Of Him.psychiatrist Tim Jennings Unveils How Our Brains And Bodies Thrive When We Have A Healthy Understanding Of Who God Is. He Dispels Common Misconceptions About God And Shows How Different God Concepts Affect The Brain Differently. Our Brains Can Adapt, Change And Rewire With Redeemed Thinking That Frees Us From Unnecessary Pain And Suffering. Discover How Neuroscience And Scripture Come Together To Bring Healing And Transformation To Our Lives.

Glossary Of Terms

Diagram Of Brain

Preface

section I: God, The Brain, And What Went Wrong

1. God Is Love

2. The Human Brain & Broken Love

3. The Infection Of Fear

4. Freedom To Love

section Ii: The Battle Between The Conflicting Views About God

5. Love Strikes Back

6. Engaging The Battle

7. Love Stands Firm

8. Changing Our View Of God

9. The Power Of Truth

10. The Truth About Sin

11. Enlarging Our View Of God

12. The Judgment Of Go

13. In The Brain Of Christ

14. Buddha, Jesus And The Brain

section Iii: Embracing The Goodness Of God

15. Forgiveness

16. When Good Prevails

17. Preparing The Mind To Meet Jesus

Addendum: Putting It All Together: Simple Steps To A Healthier Brain

References