The Good Girl's Guide to Great Sex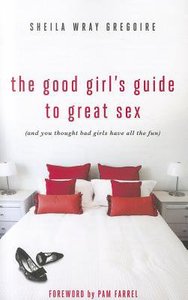 Whether you're about to get married, newly married, or still figuring things out, The Good Girl's Guide to Great Sex will show you why good girls have more fun!

- Publisher Do bad girls really have more fun? Surveys say no. The women who are most likely to enjoy sex are married and religious. In other words, they're Good Girls! But good girls know that making sex great isn't about acting trashy. It's about recognizing what God really designed sex for, and then learning how to reap all these benefits and joyfully enjoy your husband. Frank and contemporary, The Good Girls' Guide to Great Sex will give the newly engaged and new brides---and some veteran wives---a Christian resource to answer their most intimate, and embarrassing, questions. In a conversational style, with lots of humorous anecdotes, the book will show that sex isn't just physical: it's also an emotional and spiritual experience. And we'll learn why commitment in a Christian marriage is the perfect recipe for a sex life which is out of this world!

- Publisher
You May Also Be Interested In
About "The Good Girl's Guide to Great Sex"
Whether you're about to get married, newly married, or still figuring things out, The Good Girl's Guide to Great Sex will show you why good girls have more fun!
- Publisher

Do bad girls really have more fun? Surveys say no. The women who are most likely to enjoy sex are married and religious. In other words, they're Good Girls! But good girls know that making sex great isn't about acting trashy. It's about recognizing what God really designed sex for, and then learning how to reap all these benefits and joyfully enjoy your husband. Frank and contemporary, The Good Girls' Guide to Great Sex will give the newly engaged and new brides---and some veteran wives---a Christian resource to answer their most intimate, and embarrassing, questions. In a conversational style, with lots of humorous anecdotes, the book will show that sex isn't just physical: it's also an emotional and spiritual experience. And we'll learn why commitment in a Christian marriage is the perfect recipe for a sex life which is out of this world!
- Publisher


Meet the Author
Sheila Gregoire
From a babysitting collective to an herbal bath business, Sheila Wray Gregoire would rather create her own job than have someone hire her--a born entrepreneur. But being raised by a single mom, even one who did a wonderful job, left a hole where her father should have been and fueled her passion to preserve marriages. She and her husband, Keith, "tag-team" homeschool their kids. She also writes for national magazines and speaks across the country, combining the realities of a family with Scripture for real-world, real-biblical answers.
Customer Reviews For "The Good Girl's Guide to Great Sex"
Write Your Own Review
Fantastic resource
By Sally Poyzer ,

Nov 12 2018
I highly recommend this book to any bride or wife. It is full of lots of practical advice and doesn't shy away from real issues women face in the bedroom. As a women's pastor, this is the best book I have come across on the topic of healthy sex in marriage and it will now be my 'go to' recommendation. 
---
Helpful Resource...not only for Women
By Kylie T,

Jan 25 2017
I highly recommend this book to all women and men heading into marriage. As someone who was fearful of sex and intimacy, this book calmed my nerves, educated me on whathow my soon-husband would be thinkingdesiring (which he confirmed is accurate), reassured me of my fears and doubts and gave me confidence and advice. From a man's benefit, this book will allow you to understand, and know how to respond and react to, the thoughts and fears of your soon wife. My husband and I both read this book several weeks before marriage and we both highly recommend it to soon-to-be husbands and wives to help each other understand the uncertainties and fears and the differing emotions, feelings, thoughts and approaches each gender has concerning sex.   
---
A great read for good guys as well
By MatthewT,

Jan 23 2017
As a guy, I recommend this book for men as well. 
Although the book has been written for women, the insights and stories and reflections contained within the book offer help to both genders. 
Gegoire offers honest thoughts and experience and cites research constantly.
She covers a broad range of questions and realities of sex from Christian perspective. 
I think most would find her approach to sex positive and exciting and conservative. An impressive feat and much needed addition in the "Christian sex books" genre.   
From a male perspective, it's probably best read only soon before the wedding day (with permission from your fiance). 
Fantastic resource for men and women for an important area of married life. 
Highly recommended for both guys and girls. 
---
Excellent Resource for all Married Women
By Iola,

May 05 2012
Despite the title A Good Girl's Guide to Great Sex is not all about positions and moves (after all the biology hasn't changed) It is more about sex as a vital component of the marriage relationship She emphasises the importance of our relationship with our spouse spending time together and sharing hobbies She also says "The key to a passionate marriage is not to be as sexually adventurous as possible but to be as passionate about God as possible"The author is very open about the ups and downs of her own relationship and these stories are enhanced by quotes from some of the hundreds of women (and men) she surveyed as part of her research Her studies refute the common secular wisdom that practice with as many people as possible makes perfect Her research showed that those who were least sexually active before marriage had the greatest satisfaction with their love lives I think this is an excellent resource for engaged or newly-married couples and for those who have (ahem) been married for a little longer

Thanks to Zondervan and NetGalley for providing a free ebook for review

{{review.title}}
By {{review.author.name}},

{{review.reviewCreatedDate | date:'MMM dd yyyy'}}

{{reviewdescription}}
{{review.text}}
---