The Gospel At Work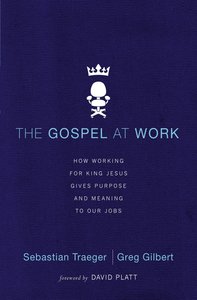 Most Christians fall into one of two main problems when it comes to work: Either they are idle in their work, or they have made an idol of it. Both of these mindsets---idleness in work and idolatry of work---are deadly misunderstandings of how God intends for us to think about our employment. In The Gospel at Work, Sebastian Traeger and Greg Gilbert unpack the powerful way in which the gospel can transform our work. They answer some of the tough questions that Christians in the workplace often ask, like: What factors should matter most in choosing a job? How should I think about how to treat my boss, my co-workers, and my employees? Is full-time Christian work more valuable than my job? Is it ok to be motivated by money? How do you prioritize---or balance---work, family and church responsibilities? Solidly grounded in the gospel, The Gospel at Work confronts both our idleness at work and our idolatry of work with a challenge of its own---to remember that whom we work for is infinitely more important than what we do.

- Publisher
You May Also Be Interested In
About "The Gospel At Work"
Most Christians fall into one of two main problems when it comes to work: Either they are idle in their work, or they have made an idol of it. Both of these mindsets---idleness in work and idolatry of work---are deadly misunderstandings of how God intends for us to think about our employment. In The Gospel at Work, Sebastian Traeger and Greg Gilbert unpack the powerful way in which the gospel can transform our work. They answer some of the tough questions that Christians in the workplace often ask, like: What factors should matter most in choosing a job? How should I think about how to treat my boss, my co-workers, and my employees? Is full-time Christian work more valuable than my job? Is it ok to be motivated by money? How do you prioritize---or balance---work, family and church responsibilities? Solidly grounded in the gospel, The Gospel at Work confronts both our idleness at work and our idolatry of work with a challenge of its own---to remember that whom we work for is infinitely more important than what we do.
- Publisher


Meet the Authors
Sebastian Traeger
Sebastian Traeger has spent years starting and building various businesses. Recently, he co-founded and serves as the CEO of FiveStreet.com, a real estate tech start-up. Prior to this, he co-founded Razoo.com, a crowd funding site for non-profits; Christianity.com, a software and services company for Christian organizations; and Silas Partners, a web consulting firm. He also helped start Village Phone, a telecommunications company in El Salvador and worked as a management consultant at Dean and Company. He graduated in 1996 with a B.A. in Politics from Princeton University where he also played Varsity Baseball. Sebastian serves as an elder at Capitol Hill Baptist Church in Washington, D.C and is on the Board of Guidestone Financial Resources of the SBC. He and his wife, Nikki, have three children, Alex, Wesley and Analeigh.
Table Of Contents
1. Introduction---the Challenge Of Idolatry And Idleness At Work

2. A Closer Look At Workplace Idolatry

3. A Closer Look At Workplace Idleness

4. How The Gospel Meets The Challenge

5. How Should I Choose A Job?

6. How Do I Deal With Boring Jobs, Difficult Bosses, And Competitive Co-workers?

7. Is Full-time Christian Ministry More Valuable Than My Job?

8. How Can I Balance Work, Church, And Family?

9. What Does It Mean---really---to Be Successful At Work?

10. The 180-day Idol-idle Challenge: Confronting Idolatry And Idleness With The Gospel
Customer Reviews For "The Gospel At Work"
Write Your Own Review
Clear, Straight Forward Message and Practical
By Julz,

Mar 17 2018
There are a lot of good books written on the subject of work and the Christian faith, and this is one of them. 

This book was written by a pastor (Greg Gilbert) and an entrepreneur (Sebastian), so it is biblical, and practical at the same time. The book's core message is that we can be idle at work or we can make our work an idol, and how the gospel offers us a new motivation for work, i.e. working for King Jesus. 

Furthermore, it elaborates on issues such as, how to handle difficult bossesco-workers, what does it mean to be a Christian boss, and how to juggle the God-given assignments in life, such as work, ministry and family.

Overall, a great book on the subject of work and Christian faith, and greatly recommended for the professionals, and business owners.
---
One of the better, most practical books on work
By Pastor Steven,

Aug 24 2015
It's hard not to compare this with 'Every Good Endeavour' by Tim Keller, but Traeger's addition to the books on work for Christians is a must read. While I would have liked expansion on the biblical theology of work, the great strength of this book is in how it practically applies gospel-centred principles to daily work.
{{review.title}}
By {{review.author.name}},

{{review.reviewCreatedDate | date:'MMM dd yyyy'}}

{{reviewdescription}}
{{review.text}}
---