The Gospel in Human Contexts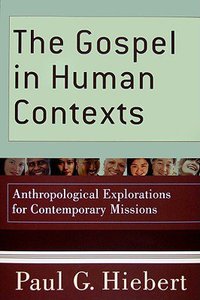 While the gospel is timeless truth, it enters into ever-changing and widely varied human contexts. In order to meaningfully communicate the gospel to particular humans, those involved in cross-cultural ministry need to understand people and the particular influences--social, cultural, psychological, and ecological--that shape them. Further, we must understand ourselves and the influences that have shaped us, since our own contexts influence how we understand and transmit the gospel message. Therefore, we must master not only the skill of biblical interpretation but also the skill of human interpretation. That task is the topic of this book, the summation of a lifetime of experience and thinking by a world-renowned missiologist and anthropologist, the late Paul Hiebert.

- Publisher "The Gospel in Human Contexts is something that only Paul Hiebert could have written in his mature years. Here he shows that the use of anthropology as merely a way to reconnoiter other cultures for the triumph of mission can be dangerous if missionaries assume their understanding of Christianity is universal. This is a book designed to help us grapple with what it means to be human in any culture and how Christian mission is on solid footing only if it is fully engaged in exegeting what it means to be human in our new globalizing context, where cultures are not static and missionaries are builders of bridges between the gospel and the world. Both as a review of anthropological and theological theory, on the one hand, and as a sensitive meditation on becoming the sort of person who can be a genuine bridge builder, on the other, The Gospel in Human Contexts should be required reading in every course on mission and ministry."--William R. Burrows, research professor of missiology, New York Theological Seminary"In this excellent resource book, the late Paul G. Hiebert has distilled the best of his mature scholarship. Missionaries and global-minded Christian workers will savor the refreshing insights on how to bring down to earth the gospel they preach to reach the people they serve. Hiebert presents a third way to practice theology in preparing cross-cultural workers: in addition to systematic and biblical theologies, there is a need for missional theology. This process includes human exegesis (of both ourselves and the indigenous people) and learning how to appropriately communicate Christ's love in human contexts so that the people understand and are transformed by the power of God while remaining faithful to the gospel."--Robert L. Gallagher, associate professor of intercultural studies, Wheaton College Graduate School"This engagingly written book by the leading missiological anthropologist, the late Paul Hiebert, provides a helpful overview of, and perspective on, missions and missiology at the beginning of the twenty-first century. It is grounded in sophisticated theory while remaining wonderfully accessible and eminently practical."--Robert J. Priest, professor, Trinity Evangelical Divinity School"The gems in this, Hiebert's final work on anthropology for missions, are the recapitulation of his thinking on critical contextualization and the spelling out in new detail his thinking about a 'systems approach' to the study of culture for mission. A new and compelling insight is the notion of 'missionaries as global mediators.' Hiebert correctly observes that 'making disciples' in any culture is to engage the challenge of a new identity and unity in Christ against the deepest of human identities that lead to fragmentation--ethnicity, culture, and nationalism. Hiebert concludes that living a life of love in Christ demands the building of multicultural relationships and maturing as transcultural persons in order to practice a ministry that leads people into transcultural discipleship."--Sherwood Lingenfelter, provost and senior vice president, Fuller Theological Seminary

- Publisher
You May Also Be Interested In
About "The Gospel in Human Contexts"
While the gospel is timeless truth, it enters into ever-changing and widely varied human contexts. In order to meaningfully communicate the gospel to particular humans, those involved in cross-cultural ministry need to understand people and the particular influences--social, cultural, psychological, and ecological--that shape them. Further, we must understand ourselves and the influences that have shaped us, since our own contexts influence how we understand and transmit the gospel message. Therefore, we must master not only the skill of biblical interpretation but also the skill of human interpretation. That task is the topic of this book, the summation of a lifetime of experience and thinking by a world-renowned missiologist and anthropologist, the late Paul Hiebert.
- Publisher

"The Gospel in Human Contexts is something that only Paul Hiebert could have written in his mature years. Here he shows that the use of anthropology as merely a way to reconnoiter other cultures for the triumph of mission can be dangerous if missionaries assume their understanding of Christianity is universal. This is a book designed to help us grapple with what it means to be human in any culture and how Christian mission is on solid footing only if it is fully engaged in exegeting what it means to be human in our new globalizing context, where cultures are not static and missionaries are builders of bridges between the gospel and the world. Both as a review of anthropological and theological theory, on the one hand, and as a sensitive meditation on becoming the sort of person who can be a genuine bridge builder, on the other, The Gospel in Human Contexts should be required reading in every course on mission and ministry."--William R. Burrows, research professor of missiology, New York Theological Seminary"In this excellent resource book, the late Paul G. Hiebert has distilled the best of his mature scholarship. Missionaries and global-minded Christian workers will savor the refreshing insights on how to bring down to earth the gospel they preach to reach the people they serve. Hiebert presents a third way to practice theology in preparing cross-cultural workers: in addition to systematic and biblical theologies, there is a need for missional theology. This process includes human exegesis (of both ourselves and the indigenous people) and learning how to appropriately communicate Christ's love in human contexts so that the people understand and are transformed by the power of God while remaining faithful to the gospel."--Robert L. Gallagher, associate professor of intercultural studies, Wheaton College Graduate School"This engagingly written book by the leading missiological anthropologist, the late Paul Hiebert, provides a helpful overview of, and perspective on, missions and missiology at the beginning of the twenty-first century. It is grounded in sophisticated theory while remaining wonderfully accessible and eminently practical."--Robert J. Priest, professor, Trinity Evangelical Divinity School"The gems in this, Hiebert's final work on anthropology for missions, are the recapitulation of his thinking on critical contextualization and the spelling out in new detail his thinking about a 'systems approach' to the study of culture for mission. A new and compelling insight is the notion of 'missionaries as global mediators.' Hiebert correctly observes that 'making disciples' in any culture is to engage the challenge of a new identity and unity in Christ against the deepest of human identities that lead to fragmentation--ethnicity, culture, and nationalism. Hiebert concludes that living a life of love in Christ demands the building of multicultural relationships and maturing as transcultural persons in order to practice a ministry that leads people into transcultural discipleship."--Sherwood Lingenfelter, provost and senior vice president, Fuller Theological Seminary
- Publisher


Meet the Author
Paul G Hiebert
Paul G. Hiebert (1933-2007) was distinguished professor of mission and anthropology at Trinity Evangelical Divinity School and previously taught at Fuller Theological Seminary. He also served as a pastor and missionary to India. He received his PhD from the University of Minnesota and was the author or coauthor of numerous articles and books in the fields of anthropology and missions.
Table Of Contents
Illustrations
introduction
part 1: Theoretical Foundations
1. Changing Views
2. Missional Theology
part 2: Exegeting Humans
3. Changing Images
4. Early Anthropology
5. Recent Anthropology
6. A Systems Approach
7. Research Methods
part 3: Mission As Intercultural Mediation
8. Missions As Glocal Mediation
9. Missionaries As Global Mediators
index