The Grace of Giving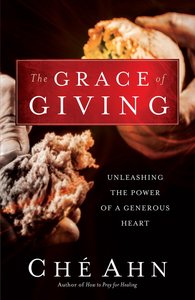 What does biblical prosperity have to do with giving? While it is clear from Scripture that God desires to prosper His children materially, the Word's emphasis is not on amassing personal wealth but on having a generous heart like the Father's. Ché Ahn believes that God desires to prosper His people, and that He will do so as they trust His grace to provide for their needs and seek to reflect His giving, blessing image. This happens as believers repent of the hindrances of mind and heart that motivate them to grasp at wealth in unhealthy and self-defeating ways. The Grace of Giving guides readers to tear down the idols of wealth and poverty and to flourish in God's presence and provision.

- Publisher
You May Also Be Interested In
About "The Grace of Giving"
What does biblical prosperity have to do with giving? While it is clear from Scripture that God desires to prosper His children materially, the Word's emphasis is not on amassing personal wealth but on having a generous heart like the Father's. Ché Ahn believes that God desires to prosper His people, and that He will do so as they trust His grace to provide for their needs and seek to reflect His giving, blessing image. This happens as believers repent of the hindrances of mind and heart that motivate them to grasp at wealth in unhealthy and self-defeating ways. The Grace of Giving guides readers to tear down the idols of wealth and poverty and to flourish in God's presence and provision.
- Publisher


Meet the Author
Che Ahn
Che Ahn (D.Min., Fuller Theological Seminary) is senior pastor of Harvest Rock Church in Pasadena, California, and founder and president of Harvest International Ministry, a worldwide apostolic network of more than 5,000 churches in more than 34 nations. The author of numerous books including When Heaven Comes Down: Experiencing God's Glory in Your Life; Spirit-Led Evangelism: Reaching the Lost through Power and Love and Close Encounters Of The Divine Kind, Ahn travels and teaches extensively throughout the world.