The Grace of God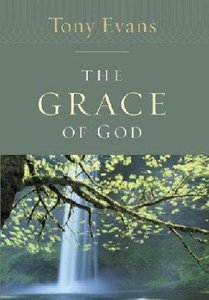 Salvation and grace are instrumental to Christian life and thought. Do we really understand what has been done for us in Christ? A debt that we could not pay has been paid in full! What freedom! In the personable style of this great preacher/teacher, this study focuses' on truths about grace.

- Publisher 64 Pages

- Publisher In this easy-to-read guide, pastor and Bible teacher Tony Evans shares wisdom from the Word on how we can grow in our trials and what God wants us to learn from tough times. Learn how to: See the Purpose of Hard Times, Trust Him Through Trials, Build a Foundation for the Future. Book jacket.

- Publisher
You May Also Be Interested In
About "The Grace of God"
Salvation and grace are instrumental to Christian life and thought. Do we really understand what has been done for us in Christ? A debt that we could not pay has been paid in full! What freedom! In the personable style of this great preacher/teacher, this study focuses' on truths about grace.
- Publisher

64 Pages
- Publisher

In this easy-to-read guide, pastor and Bible teacher Tony Evans shares wisdom from the Word on how we can grow in our trials and what God wants us to learn from tough times. Learn how to: See the Purpose of Hard Times, Trust Him Through Trials, Build a Foundation for the Future. Book jacket.
- Publisher


Meet the Author
Tony Evans
Tony Evans is the senior pastor of Oak Cliff Bible Fellowship Church in Dallas, and president of The Urban Alternative, a ministry devoted to bringing about change in urban communities through the Church. He is the author of many books, including Free at Last, The Battle is the Lord's, Our God Is Awesome, Returning to Your First Love, The Promise, Who is this King of Glory? What Matters Most, and The Best Is Yet To Come.- Publisher.
Table Of Contents
1.  The Concept Of Grace

2.  Saved By Grace

3.  Sanctified By Grace

4.  Set Free By Grace

5.  The Sufficiency Of Grace
Excerpt
Excerpt from: The Grace of God
Allow me to ask you a few questions. Were you saved by keeping the Ten Commandments? Are you going to heaven because you're better than your neighbor, or hoping to please God by trying your very hardest to be good? I hope your answer to each of these is no, because no one will ever be saved or please God by these means. When you try to mix human effort with God's grace, you're trying to mix oil and water. Now don't misunderstand me. Legalism is not merely the presence of the Law. God's Law is "holy and righteous and good" (Romans 7:12). The problem is that the Law provides no power to obey it. Legalism is not the presence of rules, but the wrong attitude toward the rules. Legalism assigns to the rules an authority that God never meant them to have. Victory and true liberty cannot be found in human effort.