The Grace of Yielding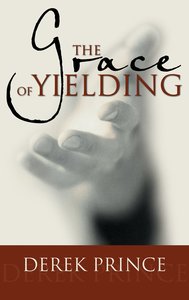 If God asked you, as He did with Abraham, to sacrifice your "pride and joy," your "Isaac," could you do it? From the Scriptures, Derek Prince shows that God will give back to you abundantly when you are willing to yield to Him. Discover how you can please God in all you do, become mature in your faith, and receive your inheritance as a child of God. You can be confident that, as you yield to the Spirit of Christ, you will learn to walk in the abundance of God's power and blessings.

- Publisher
You May Also Be Interested In
About "The Grace of Yielding"
If God asked you, as He did with Abraham, to sacrifice your "pride and joy," your "Isaac," could you do it? From the Scriptures, Derek Prince shows that God will give back to you abundantly when you are willing to yield to Him. Discover how you can please God in all you do, become mature in your faith, and receive your inheritance as a child of God. You can be confident that, as you yield to the Spirit of Christ, you will learn to walk in the abundance of God's power and blessings.
- Publisher


Meet the Author
Derek Prince
Derek Prince was born in India of British parents in 1915. He was educated at Eton College and Cambridge University, England, where he held a Fellowship in Ancient and Modern Philosophy at King's College. While serving with the British army in World War II, he began to study the Bible and experienced a life-changing encounter with Jesus Christ. He then devoted his life to studying and teaching the Bible.


Derek Prince taught and ministered on six continents for over seven decades, imparting God's revealed truth, praying for the sick and afflicted, and sharing his prophetic insights into world events in the light of Scripture. His daily radio broadcast Derek Prince Legacy Radio (formerly Keys to Successful Living), reaches more than half the world. He was the author of over 80 books, over 600 audio teachings, and over 100 video teachings, many of which have been translated and published in other languages. Derek Prince died in 2003 in Jerusalem.
Table Of Contents
If God Asked You, As He Did With Abraham, To Sacrifice Your "pride And Joy," Your "isaac," Could You Do It? From The Scriptures, Derek Prince Shows That God Will Give Back To You Abundantly When You Are Willing To Yield To Him. Discover How You Can Please God In All You Do, Become Mature In Your Faith, And Receive Your Inheritance As A Child Of God. You Can Be Confident That, As You Yield To The Spirit Of Christ, You Will Learn To Walk In The Abundance Of God's Power And Blessings.