The Grand Weaver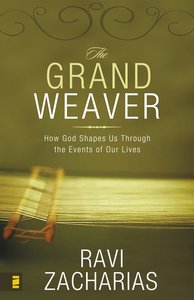 What does it all mean? Why does it often seem that the things that happen in the world are random? Is there a purpose for my life? This book is the perfect gift for those asking the tough questions about life and wondering how they fit into God's plan. Featuring 96 short, easy-to-read pages, and including topical Scripture verses, this book is sure to speak to those searching for meaning. Content is excerpted from The Grand Weaver by Ravi Zacharias.

- Publishers
You May Also Be Interested In
About "The Grand Weaver"
What does it all mean? Why does it often seem that the things that happen in the world are random? Is there a purpose for my life? This book is the perfect gift for those asking the tough questions about life and wondering how they fit into God's plan. Featuring 96 short, easy-to-read pages, and including topical Scripture verses, this book is sure to speak to those searching for meaning. Content is excerpted from The Grand Weaver by Ravi Zacharias.

- Publishers
- Koorong

How differently would we live if we believed that every dimension of our lives-from the happy to the tragic to the mundane-were part of a beautiful and purposeful design in which no thread were wrongly woven? That's what best-selling author and internationally-known apologist, Ravi Zacharias, explores in The Grand Weaver.As Christians, we believe that great events such as a death or a birth are guided by the hand of God. Yet we drift into feeling that our daily lives are the product of our own efforts. This book brims with penetrating stories and insights that show us otherwise. From a chance encounter in a ticket line to a beloved father's final word before dying, from a random phone call to a line in a Scripture reading, every detail of life is woven into its perfect place. In The Grand Weaver, Dr. Zacharias examines our backgrounds, our disappointments, our triumphs, and our beliefs, and explains how they are all part of the intentional and perfect work of the Grand Weaver.Also available: unabridged audio CD.
- Publisher


Meet the Author
Ravi Zacharias
Frederick Anthony Ravi Kumar Zacharias was born into a nominally Christian (Anglican) Indian family in Madras in 1946, and grew up in Delhi. He was an atheist in his youth, but had a conversion experience after reading John 14:19 while recovering from a suicide attempt at age 17. Ravi emigrated with his family to Canada in 1966. He earned his M.Div. degree from Trinity International University, Deerfield, Illinois, in 1972.

Since 1971, when he first ministered to GIs and POWs in Vietnam, Ravi has spoken all over the world in great halls and universities including Harvard, Princeton, and Oxford.

He is listed as a distinguished lecturer with the Staley Foundation and has appeared on CNN and other international broadcasts.

The author of numerous books, he powerfully mixes biblical teaching and Christian apologetics. His weekly radio program, Let My People Think, is broadcast over 1,500 stations worldwide, and his weekday program, Just Thinking, began airing in November 2004. He is president of Ravi Zacharias International Ministries.

Some of his publications include Beyond Opinion: Living the Faith We Defend; The End of Reason; Walking from East to West; The Grand Weaver; Cries of The Heart; Recapture the Wonder: Experiencing God's Amazing Promise of Childlike Joy, and Jesus Among Other Gods: The Absolute Claims of the Christian Message.

Ravi has been married to his wife Margie since 1972, and they have three adult children.