The Great Books Reader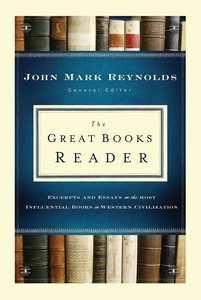 Great Books programs have become increasingly popular among Christian colleges, high schools, and even home schoolers. This one-of-a-kind book is designed for those who do not have the opportunity to attend such a program but are still interested in directly engaging with the Western Canon. It contains substantial excerpts from thirty of the most important books in history, with each excerpt followed by an essay placing the work in historical and Christian context. Readers can learn directly from such authors and thinkers as Plato, Aristotle, Augustine, Dante, Chaucer, Shakespeare, Milton, de Tocqueville, Freud, and Chesterton.

Selected as one of 2011's Best Books for Preachers by Preaching Magazine

- Publisher
You May Also Be Interested In
About "The Great Books Reader"
Great Books programs have become increasingly popular among Christian colleges, high schools, and even home schoolers. This one-of-a-kind book is designed for those who do not have the opportunity to attend such a program but are still interested in directly engaging with the Western Canon. It contains substantial excerpts from thirty of the most important books in history, with each excerpt followed by an essay placing the work in historical and Christian context. Readers can learn directly from such authors and thinkers as Plato, Aristotle, Augustine, Dante, Chaucer, Shakespeare, Milton, de Tocqueville, Freud, and Chesterton.

Selected as one of 2011's Best Books for Preachers by Preaching Magazine
- Publisher


Meet the Author
John Mark Reynolds (Ed)
John Mark Reynolds (Ph.D., University of Rochester) is founder and director of the Torrey Honors Institute and professor of philosophy at Biola University. Reynolds lectures frequently on ancient philosophy, philosophy of science, home schooling and cultural trends. He has taught philosophy at several colleges and universities, and he completed a two-year postdoctoral fellowship in the philosophy of science at Biola University.
He regularly appears on radio talk shows, such as the Hugh Hewitt Show, and actively blogs on cultural issues at ScriptorumDaily.com and the Washinton Post's On Faith column. His books include Three Views on Creation and Evolution (Zondervan), Towards a Unified Plationic Human Psychology and When Athens Met Jerusalem: An Introduction to Classical and Christian Thought.
Most recently he has co-authored with Phillip E. Johnson Against All Gods: What's Right and Wrong About the New Atheism
Koorong -Editorial Review.