The Greatest Thing in the World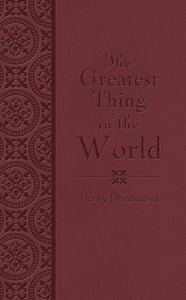 More than a century after the author delivered his meditation on the 13th chapter of I Corinthians, the need for genuine Christian love remains as great as ever. Drummond writes, "To love abundantly is to live abundantly, and to love forever is to live forever". In this analysis of the love chapter, he highlights the basic truth that God is love; therefore, "everything that loves is born of God".

- Publisher
You May Also Be Interested In
About "The Greatest Thing in the World"
More than a century after the author delivered his meditation on the 13th chapter of I Corinthians, the need for genuine Christian love remains as great as ever. Drummond writes, "To love abundantly is to live abundantly, and to love forever is to live forever". In this analysis of the love chapter, he highlights the basic truth that God is love; therefore, "everything that loves is born of God".
- Publisher


Meet the Author
Henry Drummond
Henry Drummond (1851-1897), an evangelist and lecturer, was born in Sterling, Scotland on 7 August 1851. He was educated at Edinburgh University and, in 1877, became a lecturer on science at the Free Church College of Glasgow. Drummond was a geologist and explorer who spent a portion of time away from the classroom on scientific expeditions. As a Christian, he combined his knowledge of science with his understanding of the Creator and His diverse creations. Beyond his work as a scientist, Drummond desired to see men and women come to Christ. He accompanied Dwight L. Moody on many of his revival missions in England and Ireland.

Drummond was the author of numerous books, and is best remembered today for his 1874 meditation on love, The Greatest Thing in the World, which lays out the foundation of the gospel: that love, of God and of one another, is our highest calling.