The Guardian Duke (#01 in Forgotten Castles Series)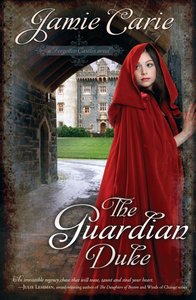 The Guardian Duke is award-winning novelist Jamie Carie's most exciting story yet, a uniquely arranged Regency-era romantic adventure where hero and heroine know each other through written letters but have yet to meet.

Gabriel, the Duke of St. Easton, is ordered by the King to take guardianship over Lady Alexandria Featherstone whose parents are presumed dead after failing to return from a high profile treasure hunt. But Alexandria ignores this royal reassignment, believing her parents are still alive and duly following clues that may lead to their whereabouts. Gabriel, pressured by what are actually the King's ulterior motives, pursues her across windswept England and the rolling green hills of Ireland but is always one step behind.

When they do meet, the search for earthly treasure will pale in comparison to what God has planned for both of them.

Endorsements:

"Get lost in Ireland in this rollicking adventure with a brave, headstrong heroine and a relentless yet honorable duke determined to save her from a dangerous quest. With rich characterization and an intriguing plot, Jamie Carie's The Guardian Duke will leave you breathless for the next installment!"

-- Susan May Warren, best-selling author of Baroness
- Publisher
You May Also Be Interested In
About "The Guardian Duke (#01 in Forgotten Castles Series)"
The Guardian Duke is award-winning novelist Jamie Carie's most exciting story yet, a uniquely arranged Regency-era romantic adventure where hero and heroine know each other through written letters but have yet to meet.

Gabriel, the Duke of St. Easton, is ordered by the King to take guardianship over Lady Alexandria Featherstone whose parents are presumed dead after failing to return from a high profile treasure hunt. But Alexandria ignores this royal reassignment, believing her parents are still alive and duly following clues that may lead to their whereabouts. Gabriel, pressured by what are actually the King's ulterior motives, pursues her across windswept England and the rolling green hills of Ireland but is always one step behind.

When they do meet, the search for earthly treasure will pale in comparison to what God has planned for both of them.

Endorsements:

"Get lost in Ireland in this rollicking adventure with a brave, headstrong heroine and a relentless yet honorable duke determined to save her from a dangerous quest. With rich characterization and an intriguing plot, Jamie Carie's The Guardian Duke will leave you breathless for the next installment!"

-- Susan May Warren, best-selling author of Baroness
- Publisher
Meet the Author
Jamie Carie
Jamie Carie ranked first among the top unpublished writers of 2006 at popular arts and entertainment Web site Infuze. An insatiable reader herself, Jamie's influences range from Dickens and Dumas to Francine Rivers and Nicholas Sparks. She lives with her husband and their three children in Indianapolis, Indiana. She has authored Snow Angel her first romantic novel.