The Habits of Highly Effective Churches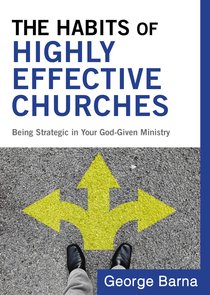 George Barna reveals nine critical habits proven to make a church an effective local body. The Habits of Highly Effective Churches dispels popular myths and wrong beliefs as to what constitutes a thriving church in today's society and is an excellent resource for ministry leaders who are seeking or willing to re-evaluate and restructure a church.

- Publisher
You May Also Be Interested In
About "The Habits of Highly Effective Churches"
George Barna reveals nine critical habits proven to make a church an effective local body. The Habits of Highly Effective Churches dispels popular myths and wrong beliefs as to what constitutes a thriving church in today's society and is an excellent resource for ministry leaders who are seeking or willing to re-evaluate and restructure a church.
- Publisher


Meet the Author
George Barna
George Barna received a doctorate from Dallas Baptist University, worked in the Massachusetts state legislature and as a pollster and a campaign manager. George and his wife, Nancy, founded the Barna Research Group in 1984. In 2004, he re-engineered the for-profit corporation into The Barna Group, of which he is the Directing Leader. The firm analyzes American culture and creates resources and experiences designed to facilitate moral and spiritual transformation.Located in Ventura, California, The Barna Group provides primary research (through its Barna Research Group division); musical, visual and digital media (through BarnaFilms); printed resources (BarnaBooks); spiritual and leadership development for young people (The Josiah Corps); and church enhancement (Transformational Church Network).
To date, Barna has written 39 books, including best sellers such as Revolution, Transforming Children into Spiritual Champions, The Frog in the Kettle, and The Power of Vision. His most recent books include Revolutionary Parenting and Pagan Christianity?
The Barna Research division has served several hundred parachurch ministries and thousands of Christian churches throughout the country. It has conducted research for numerous parachurch organizations, such as the Billy Graham Evangelistic Association; World Vision; American Bible Society; Campus Crusade for Christ; Thomas Nelson Publishers; Zondervan; and Tyndale House Publishers.