The Hadassah Covenant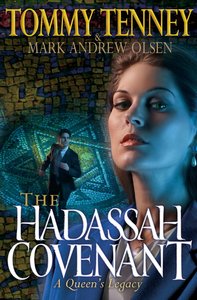 The modern-day Hadassah, introduced to readers in the previous novel, is the wife of Israel's Prime Minister, with all its reflected power but also its isolation. The inner pain she feels as her beloved land and people are terrorized by political strife and bombings is made even more personal as her own father comes under attack. And then she learns of information that could have tragic repercussions on Jews living in Iraq, where Queen Esther had laid her own life on the line to save her people. The successor to Xerxes has no love for the Jews, and when he discovers the Star of David medallion on Leah (the young queen's candidate Esther wrote to in Hadassah), he is outraged. Leah is delegated to the "rejected" category, virtually a prisoner for life in the king's palace, with no hope and no future.Will Queen Esther and Mordecai be able to rescue Leah from the "ash heap" of Persian royal tradition? And even if they can, will Leah ever be able to truly love someone after all she has been through?

- Publisher
You May Also Be Interested In
About "The Hadassah Covenant"
The modern-day Hadassah, introduced to readers in the previous novel, is the wife of Israel's Prime Minister, with all its reflected power but also its isolation. The inner pain she feels as her beloved land and people are terrorized by political strife and bombings is made even more personal as her own father comes under attack. And then she learns of information that could have tragic repercussions on Jews living in Iraq, where Queen Esther had laid her own life on the line to save her people. The successor to Xerxes has no love for the Jews, and when he discovers the Star of David medallion on Leah (the young queen's candidate Esther wrote to in Hadassah), he is outraged. Leah is delegated to the "rejected" category, virtually a prisoner for life in the king's palace, with no hope and no future.Will Queen Esther and Mordecai be able to rescue Leah from the "ash heap" of Persian royal tradition? And even if they can, will Leah ever be able to truly love someone after all she has been through?
- Publisher


Meet the Authors
Tommy Tenney
Tommy Tenney is the author of the bestselling series The God Chasers, God's Favorite House, The God Catchers, and God's Eye View. He spent ten years pastoring and has spent over twenty years in itinerant ministry, travelling to more than forty nations. He speaks in over 150 venues each year sharing his heart with many thousands. His two passions are The Presence of God and Unity in the Body of Christ. To help others pursue these twin passions, he founded the God Chasers network, a ministry organised to distribute his writing and speaking through various mediums. Three generations of ministry in his family heritage have given Tommy a unique perspective on ministry. He has a gifting to lead hungry people into the presence of God. He and his wife, Jeannie, reside in Louisiana with their three daughters and two Yorkies. - Publisher.
Mark Andrew Olsen
Mark Andrew Olsen, whose novel The Assignment was a Christy Award finalist, also collaborated on bestsellers Hadassah and The Hadassah Covenant. The son of missionaries to France, Mark is a graduate of Baylor University. He and his wife, Connie, live in Colorado Springs with their three children.