The Hallelujah Diet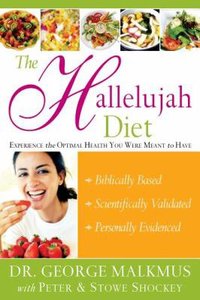 Biblically Based. Scientifically Validated. Personally Evidenced.

The Hallelujah Diet & Lifestyle is whole-person health at its God-given best.

When you feed your body the nutrients it needs through The Hallelujah Diet, and nurture your mind and spirit through the Hallelujah Diet & Lifestyle, every part of you will know and experience the optimal health we were all meant to have.

Biblically based.

You have everything you need for true physical nourishment and great health from our Provider in Genesis 1:29.

"And God said, Behold, I have given you every herb bearing seed, which is upon the face of all the earth, and every tree, in the which is the fruit of a tree yielding seed; to you it shall be for meat (food)." – Genesis 1:29

Scientifically validated.

You also have plenty of documentation from scientific research that confirms the Biblical wisdom of The Hallelujah Diet, plus even more evidence that supports the benefits of the Hallelujah Diet & Lifestyle.

It's no wonder that the health recommendations we all hear and read about today are to eat more fruits and vegetables, drink more water, eat less saturated fats and hydrogenated oils, consume more fibre, get more exercise, and alleviate stress .


Personally Evidenced

Hundreds of thousands of people around the world have experienced the powerful benefits of the Hallelujah Diet & Lifestyle. Read what they have to say about the incredible health results they've achieved.

- Publisher Hallelujah! Here is a diet that will dramatically change your life from the inside, out. Based on a biblical foundation and years of research, statistics, and powerful testimonials including the author's own dramatic story George Malkmus' The Hallelujah Diet has caused people from all walks of life to stop and reconsider their daily food consumption habits. Stressing the healing power of food and how its proper use restores the body to a natural, healthy state, this book provides life-changing and life-saving information, recipes, and eating plans that have been proven safe and miraculously successful. It encourages a healthy change in eating, promoting exercise, fresh air, pure water, sunshine, and rest. Hallelujah! A diet that finally ties food and health together with common sense.

- Publisher
You May Also Be Interested In
About "The Hallelujah Diet"

Biblically Based. Scientifically Validated. Personally Evidenced.

The Hallelujah Diet & Lifestyle is whole-person health at its God-given best.

When you feed your body the nutrients it needs through The Hallelujah Diet, and nurture your mind and spirit through the Hallelujah Diet & Lifestyle, every part of you will know and experience the optimal health we were all meant to have.

Biblically based.

You have everything you need for true physical nourishment and great health from our Provider in Genesis 1:29.

"And God said, Behold, I have given you every herb bearing seed, which is upon the face of all the earth, and every tree, in the which is the fruit of a tree yielding seed; to you it shall be for meat (food)." – Genesis 1:29

Scientifically validated.

You also have plenty of documentation from scientific research that confirms the Biblical wisdom of The Hallelujah Diet, plus even more evidence that supports the benefits of the Hallelujah Diet & Lifestyle.

It's no wonder that the health recommendations we all hear and read about today are to eat more fruits and vegetables, drink more water, eat less saturated fats and hydrogenated oils, consume more fibre, get more exercise, and alleviate stress .


Personally Evidenced

Hundreds of thousands of people around the world have experienced the powerful benefits of the Hallelujah Diet & Lifestyle. Read what they have to say about the incredible health results they've achieved.
- Publisher

Hallelujah! Here is a diet that will dramatically change your life from the inside, out. Based on a biblical foundation and years of research, statistics, and powerful testimonials including the author's own dramatic story George Malkmus' The Hallelujah Diet has caused people from all walks of life to stop and reconsider their daily food consumption habits. Stressing the healing power of food and how its proper use restores the body to a natural, healthy state, this book provides life-changing and life-saving information, recipes, and eating plans that have been proven safe and miraculously successful. It encourages a healthy change in eating, promoting exercise, fresh air, pure water, sunshine, and rest. Hallelujah! A diet that finally ties food and health together with common sense.
- Publisher


Meet the Authors
George H Malkmus
Malkmus is founder and president of Hallelujah Acres, a worldwide ministry teaching health from a Biblical perspective.
Peter Shockey
Peter Shockey has been making films for over twenty-five years and is an accomplished screenwriter. Guideposts magazine has called his films on spiritual topics "heavenly visions for earthly eyes," and he received a New York Film Festival Award for his film Life After Life. He is active around the world as a lecturer on the topics of miracles, angels, and near-death experiences, and has appeared on numerous television programs, including"Oprah" and "The 700 Club."
Customer Reviews For "The Hallelujah Diet"
Write Your Own Review
Eating your way to great health
By Pastor Chris Battistuzzi,

Nov 15 2007
We came across this diet years ago & only recently came back to it after we were exposed to scientific info that backed up alot of our concerns about the modern foods we eat. Dr Malkmus is not some looney or extremist. He knows his stuff & today all he says is backed up by science. Our whole family are eating this way today. It wasn't easy, but it has been worth it. This is not just some weight loss diet, it is a total lifestyle change. Read the whole book and you'll understand why. If you suffer from cancer, diabetes, ADHD or many other illnesses, then you must read this book. Our family is happier & healthier than ever. We even lost weight as well. We also buy extra copies and give them to people. That's how convinced we have been. Get it - read it.
{{review.title}}
By {{review.author.name}},

{{review.reviewCreatedDate | date:'MMM dd yyyy'}}

{{reviewdescription}}
{{review.text}}
---