The Healer's Apprentice (#01 in Hagenheim - My Fairy Tale Romance Series)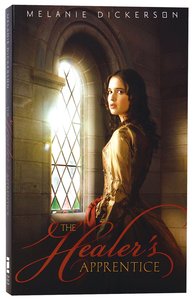 $

14.99

$

11.99
You Save: $3.00 (20%)
Paperback
In author Melanie Dickerson's new historical romance, a young healer's apprentice named Rose believes she will never marry ... until she meets Lord Hamlin, the future ruler of her region. Hamlin is everything she could ever want---kind, understanding, and a man of faith---but her low station and the fact he's already betrothed to a mysterious woman makes their romance impossible. As Lord Hamlin seeks to find the sorcerer who cursed his future bride, Rose's life spins toward confusion. A creative retelling of the classic Sleeping Beauty tale.

- Publisher
You May Also Be Interested In
About "The Healer's Apprentice (#01 in Hagenheim - My Fairy Tale Romance Series)"
In author Melanie Dickerson's new historical romance, a young healer's apprentice named Rose believes she will never marry ... until she meets Lord Hamlin, the future ruler of her region. Hamlin is everything she could ever want---kind, understanding, and a man of faith---but her low station and the fact he's already betrothed to a mysterious woman makes their romance impossible. As Lord Hamlin seeks to find the sorcerer who cursed his future bride, Rose's life spins toward confusion. A creative retelling of the classic Sleeping Beauty tale.

- Publisher
- Koorong

Two Hearts. One Hope. Rose has been appointed as a healer's apprentice at Hagenheim Castle, a rare opportunity for a woodcutter's daughter like her. While she often feels uneasy at the sight of blood, Rose is determined to prove herself capable. Failure will mean returning home to marry the aging bachelor her mother has chosen for her---a bloated, disgusting merchant who makes Rose feel ill. When Lord Hamlin, the future duke, is injured, it is Rose who must tend to him. As she works to heal his wound, she begins to understand emotions she's never felt before and wonders if he feels the same. But falling in love is forbidden, as Lord Hamlin is betrothed to a mysterious young woman in hiding. As Rose's life spins toward confusion, she must take the first steps on a journey to discover her own destiny.
- Publisher


Meet the Author
Melanie Dickerson
Melanie Dickerson is the award-winning author of The Healerfds Apprentice and a member of American Christian Fiction Writers (ACFW) and Romance Writers of America (RWA). A graduate of The University of Alabama, she lives in Huntsville, Alabama, with her husband and two daughters. Visit her online at www.melaniedickerson.com . Most recently she has written The Merchant's Daughter and The Ask Bethany both available on (Ebook, ePub)
Customer Reviews For "The Healer's Apprentice (#01 in Hagenheim - My Fairy Tale Romance Series)"
Write Your Own Review
The healer's apprentice
By Esther,

Jul 29 2018
All I can say is WOW! This book blew me off my feet! Wonderful story, great concept! Melanie Dickerson has really done the story justice! This is a marvelous start to the series and I am so excited to read the rest! Amazing! I love, love, love the romance added in the book. It brought it all to life. I highly recommend to ALL! Well done Melanie!
---
A Beautiful Tale
By Amy,

Jan 04 2018
Meet Rose, a girl who feels sick at the sight of blood, but is a healers apprentice. Why has the old healer always been so kind to Rose, a daughter of a woodcutter? Why did she,when Rose was young teach her to read and write? Find out and so much more when you read the best version of Sleeping Beauty ever!
---
My Delighted Opinion
By Joy,

Aug 23 2017
The healers apprentice was one of those books where you can read it again and again but never be bored or tired of it. It is absolutely amazing, interesting, beautiful, and entertaining! Once I picked this one up I knew I just had to go for it and bought 7 more books in the series! Thank you so much Melanie Dickerson for writing this book! I love it!
---
Sleep for 100 years....
By Grace,

Aug 23 2017
No, not one princess who sleeps for 100 years dreaming of true love. This fascinating story, rewinds us back into the thirteenth centuary, where nothing is.... not dangerous. Even though life might be simple, Rose faces a unthinkable destiny. One full of danger, Heroes and love. Read this and uncover the true story of sleeping beauty....
---
Christian Sleeping Beauty?
By Charissa,

Jan 07 2017
It took me a little while to see this book as a type of "Sleeping Beauty". The absence of a deep sleep and the protaganist's role as a healer's apprentice are far from the original fairy tale. That said the actual storyline was quite predictable. The supernatural elements in this book are more conspicious than the original but for someone wanting a mixture of classic fairy tale and spiritual warfare this book will be sure to please. 
{{review.title}}
By {{review.author.name}},

{{review.reviewCreatedDate | date:'MMM dd yyyy'}}

{{reviewdescription}}
{{review.text}}
---
Other Titles In The "Hagenheim - My Fairy Tale Romance" Series View All