The Healing Power of Prayer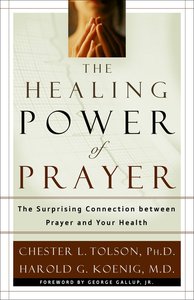 Prayer can heal you. It's not just hype or hope or a spiritual cliché.There is actual scientific evidence to support this. Recent medical and psychological studies claim that prayer can relieve stress, improve attitudes, and mend bodies. Prayer generates peace, power, and health-a triple preventative that guards against anxiety and disease. It's a simple act that heals.

According to Chet Tolson and Harold Koenig prayer helps people function at their best when life serves them the worst. Even on good days, it enhances the mind-body-soul connection. In The Healing Power of Prayer, these authors explain the nature of prayer, what happens when we pray, the restorative benefits of prayer, how to organize prayer, and much more. Their facts and insights will encourage believers to increase, the fainthearted to revive, and skeptics to begin a life of prayer.

- Publisher
You May Also Be Interested In
About "The Healing Power of Prayer"
Prayer can heal you. It's not just hype or hope or a spiritual cliché.There is actual scientific evidence to support this. Recent medical and psychological studies claim that prayer can relieve stress, improve attitudes, and mend bodies. Prayer generates peace, power, and health-a triple preventative that guards against anxiety and disease. It's a simple act that heals.

According to Chet Tolson and Harold Koenig prayer helps people function at their best when life serves them the worst. Even on good days, it enhances the mind-body-soul connection. In The Healing Power of Prayer, these authors explain the nature of prayer, what happens when we pray, the restorative benefits of prayer, how to organize prayer, and much more. Their facts and insights will encourage believers to increase, the fainthearted to revive, and skeptics to begin a life of prayer.
- Publisher


Meet the Authors
Chester Tolson
Tolson is the executive director of Churches Uniting in Global Mission. Tolson has also served as a senior pastor, a presbytery executive, a denominational fund-raiser, a college teacher, a university administrator, and a television host. Tolson received his doctoral degree with a specialty in personal counseling.
Harold G Koenig
Koenig is Associate Professor of Psychiatry and Behavioral Science and Assistant Professor of Medicine at Duke University Medical Center.