The Heart of the Sportsman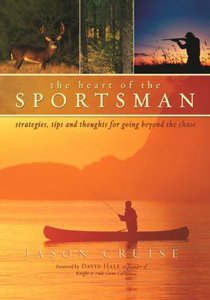 If you love the chase and if your heart is "wild," then The Heart of the Sportsman is for you. After reading a paragraph or two, you will be there -- out in the field -- stalking -- listening -- strategizing. But The Heart of the Sportsman is more than just spiritual reflections on the outdoors. It's tougher, grittier than that. It's about what works out there and why -- and who the giver of all this wisdom is. It's also about more than the thrill of the chase. It's about relationships. It's about seeing more to a late fall Saturday morning than just the deer stand and the pull of the trigger. It's about the ride in the pickup. It's about the banter and the bad hair. It's about the real life that's shared once the small talk has become more serious and reflective. It's about open doors and God-moments. The Heart of the Sportsman is more than a devotional book. This book will help you hunt better and smarter with chapters on camouflage, deer calling, turkey calling, scent control, hunting myths, and fishing. The Heart of the Sportsman will help you bring home more than a trophy mount. Book jacket.

- Publisher For the dad, husband, son or brother who loves the outdoors and everything that goes with it comes a book full of insights, practical tips and real-life outdoor dramas that any Christian hunter would enjoy.

- Publisher
You May Also Be Interested In
About "The Heart of the Sportsman"
If you love the chase and if your heart is "wild," then The Heart of the Sportsman is for you. After reading a paragraph or two, you will be there -- out in the field -- stalking -- listening -- strategizing. But The Heart of the Sportsman is more than just spiritual reflections on the outdoors. It's tougher, grittier than that. It's about what works out there and why -- and who the giver of all this wisdom is. It's also about more than the thrill of the chase. It's about relationships. It's about seeing more to a late fall Saturday morning than just the deer stand and the pull of the trigger. It's about the ride in the pickup. It's about the banter and the bad hair. It's about the real life that's shared once the small talk has become more serious and reflective. It's about open doors and God-moments. The Heart of the Sportsman is more than a devotional book. This book will help you hunt better and smarter with chapters on camouflage, deer calling, turkey calling, scent control, hunting myths, and fishing. The Heart of the Sportsman will help you bring home more than a trophy mount. Book jacket.
- Publisher

For the dad, husband, son or brother who loves the outdoors and everything that goes with it comes a book full of insights, practical tips and real-life outdoor dramas that any Christian hunter would enjoy.
- Publisher


Meet the Author
Jason Cruise
Jason Cruise holds a Master's of Divinity from Southwestern Baptist Theological Seminary and a D Min from Fuller Seminary. He has pastored churches in Tennessee, Texas and Alabama. In 2001 he founded the Outdoor Ministry Network, and has since become a nationally known speaker at men's events and at Outdoorsman's conventions and events. A professionally sponsored hunter, Jason also produces Me and Dad TV along with his father Larry Cruise, a former PGA golf professional.