The Hidden Flame (#02 in Acts Of Faith Series)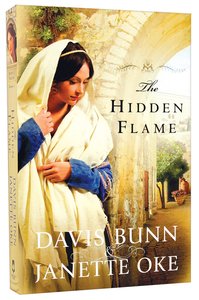 Abigail loses everything and is left with little promise of a normal life. When she discovers the Messiah and joins his followers, she also discovers new meaning and purpose. Maybe she does have a future after all. But increasing persecution is scattering the burgeoning group "to the ends of the earth." And Abigail may have given her heart to the wrong man. Two suitors desire the lovely Abigail's hand in marriage. One is a successful Hebrew merchant and widower looking for a mother for his children. On the other side is the Roman soldier Linux, who is captivated by her winsome charm and could offer the sanctuary--maybe even the love--for which she yearns. But her heart has been captured by neither of these. Stephen, one of the leaders of The Way, has a character and a faith that move her deeply, but his outspoken preaching has marked him for assassination. Will her faith and courage withstand a heartbreak beyond comprehension? And then a glimmer of hope appears, one she never would have foreseen.



- Publisher DAVIS BUNN, a professional novelist for twenty years, has sales in excess of six million copies in sixteen languages. His books have appeared on numerous national bestseller lists. He is known for the diversity of his writing talent, from gentle gift books like The Quilt to high-powered thrillers such as The Great Divide. He has also enjoyed great success in his collaborations with Janette Oke, with whom he has co-authored a series of groundbreaking historical novels.Davis draws on a rich background of international experience. Raised in North Carolina, he completed his undergraduate studies at Wake Forest University, then traveled to London to earn a master's degree in international economics and finance before embarking on a distinguished business career taking him to more than thirty countries in Europe, Africa, and the Middle East.He has received numerous accolades, including three Christy Awards for excellence in fiction. He currently serves as writer-in-residence at Regent's Park College, Oxford University, and is a sought-after lecturer on the craft of writing. JANETTE OKE was born on the Canadian prairie in Champion, Alberta, and has drawn from her own family's heritage in developing characters and plots. She is a graduate of Mountain View Bible College in Alberta, where she met her husband, Edward. After pastoring churches in Canada and Indiana, the Okes returned to the Calgary, Alberta, area, where Edward served in several positions on college faculties while Janette continued writing. She has authored over four dozen novels for adults and children, and her book sales total nearly thirty million copies. Her literary awards are numerous and include the ECPA President's Award and the CBA Life Impact Award for her significant contribution to the growth of Christian fiction. She also has won both Gold Medallion and Christy awards. The Okes have three sons and one daughter, all married, and are enjoying their many grandchildren. Edward and Janette are active in their local church and make their home north of Calgary.

- Publisher
You May Also Be Interested In
About "The Hidden Flame (#02 in Acts Of Faith Series)"
Abigail loses everything and is left with little promise of a normal life. When she discovers the Messiah and joins his followers, she also discovers new meaning and purpose. Maybe she does have a future after all. But increasing persecution is scattering the burgeoning group "to the ends of the earth." And Abigail may have given her heart to the wrong man. Two suitors desire the lovely Abigail's hand in marriage. One is a successful Hebrew merchant and widower looking for a mother for his children. On the other side is the Roman soldier Linux, who is captivated by her winsome charm and could offer the sanctuary--maybe even the love--for which she yearns. But her heart has been captured by neither of these. Stephen, one of the leaders of The Way, has a character and a faith that move her deeply, but his outspoken preaching has marked him for assassination. Will her faith and courage withstand a heartbreak beyond comprehension? And then a glimmer of hope appears, one she never would have foreseen.


- Publisher

DAVIS BUNN, a professional novelist for twenty years, has sales in excess of six million copies in sixteen languages. His books have appeared on numerous national bestseller lists. He is known for the diversity of his writing talent, from gentle gift books like The Quilt to high-powered thrillers such as The Great Divide. He has also enjoyed great success in his collaborations with Janette Oke, with whom he has co-authored a series of groundbreaking historical novels.Davis draws on a rich background of international experience. Raised in North Carolina, he completed his undergraduate studies at Wake Forest University, then traveled to London to earn a master's degree in international economics and finance before embarking on a distinguished business career taking him to more than thirty countries in Europe, Africa, and the Middle East.He has received numerous accolades, including three Christy Awards for excellence in fiction. He currently serves as writer-in-residence at Regent's Park College, Oxford University, and is a sought-after lecturer on the craft of writing. JANETTE OKE was born on the Canadian prairie in Champion, Alberta, and has drawn from her own family's heritage in developing characters and plots. She is a graduate of Mountain View Bible College in Alberta, where she met her husband, Edward. After pastoring churches in Canada and Indiana, the Okes returned to the Calgary, Alberta, area, where Edward served in several positions on college faculties while Janette continued writing. She has authored over four dozen novels for adults and children, and her book sales total nearly thirty million copies. Her literary awards are numerous and include the ECPA President's Award and the CBA Life Impact Award for her significant contribution to the growth of Christian fiction. She also has won both Gold Medallion and Christy awards. The Okes have three sons and one daughter, all married, and are enjoying their many grandchildren. Edward and Janette are active in their local church and make their home north of Calgary.
- Publisher


Meet the Authors
Davis Bunn
Davis Bunn is an internationally-acclaimed author who has sold more than four million books in fifteen languages. Honoured with three Christy Awards for excellence in historical and suspense fiction, he has written several bestsellers, including The Great Divide, Winner Take All, The Meeting Place, The Book of Hours, Drummer in the Dark, To the Ends of the Earth, and The Quilt. Davis is also the co-author of the Song of Acadia series with Janette Oke. A sought-after lecturer in the art of writing, Davis Bunn has been named Novelist in Residence at Regent's Park College, Oxford University.
Janette Oke
Janette Oke was born in Champion, Alberta, Canada, during the depression years. She graduated from Mountain View Bible College in Alberta where she met her husband, Edward. They married in 1957 and served in churches in Calgary and Edmonton, Canada, and Indiana. Oke writes historical novels which portray the lives of early North American settlers from many walks of life and geographical settings. She also writes engaging children's stories and inspiring gift books that warm the heart. Oke published her first book, Love Comes Softly, in 1979. This book experienced immediate success and became a series. She has won a number of awards including the Gold Medallion Award, The Christy Award of Excellence, the 1992 Presidents Award for her significant contribution to the category of Christian fiction from the Evangelical Christian Publishers Association, and in 1999, the Life Impact Award from the Christian Booksellers Association International. Her books have been translated into fourteen languages. Oke has published some 75 books including, The Canadian West, Seasons of the Heart and Women of the West. Her most recent releases include a beautiful childrens picture book, I Wonder...Did Jesus Have a Pet Lamb and The Songs of Acadia series, co-written with T. Davis Bunn. - Publisher.
Other Titles In The "Acts Of Faith" Series View All